The Man With The Hammer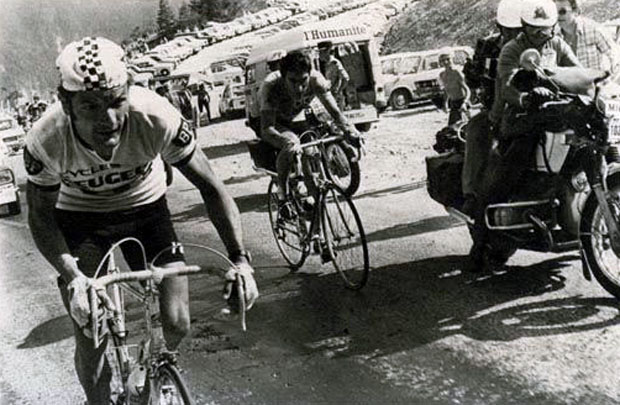 Cycling is a unique sport in the sense that suffering is a badge of honor.  Greg LeMond once said, "It never gets easier, you just go faster."  Cyclists love to suffer – it's a badge of honor.  Bernard Hinault claimed that as long as he breathed, he attacked.
At a primordial level, cycling is about the locus of control.  Cyclists love to suffer because they choose to suffer.  Because it challenges your mind.  As Jens Voigt – my all-time favorite cyclist – says, "When you go hard, your body says, 'STOP!' and your mind says, 'BODY, SHUT UP!' And, sometimes it works!  And then you GO!"
Cycling is about the glory of suffering, which is something few other sports can say.  The men and women that race the Tours de France (yes, there's a women's race and no, they don't play it on Versus, and yes, it's every bit as exciting as the men's race) suffer for 21 days, 6 hours a day, over the most challenging terrain and awful weather you can imagine – and they race hard.  Through this suffering, one develops a third-person relationship with your legs.  You become detached from them, I suspect because they cause you so much pain that you don't want to associate with them.  Cyclists don't refer to their legs and "their legs".  Cyclists refer to "the legs" as though they are a separate entity from themselves.  Something to tame but not to control.  We can control our mind, but we can not control our legs.  "We'll have to see how the legs are today."
Cycling folklore speaks of "The Man With the Hammer".  He is a man who lurks around any corner and will unexpectedly bop you on the neck with his hammer.  He will cause you to go from smoothly spinning your pedals to pedaling squares and putting your bike in "reverse".  The Man With the Hammer strikes when your mind takes more from legs than your body can provide.
Most endurance sports refer to this as "bonking", but a bonk is something you can control by eating and measuring your effort.  But in cycling – because we don't control our legs – we percieve this to be out of our control.  Cyclists can avoid him temporarily, but all cyclist are hit by him at one point or another in their careers.  Eddy Merckx on the climb to Pra-Loup when he lost the Yellow Jersey to Bernard Thevenet.  Bernard Hinault when he lost the Yellow Jersy to Greg Lemond at Serre Chevalier.  Lance Armstrong when he nearly lost the 2000 Tour on the Col de la Joux-Plane.