Anatomy of a photo: Sean Kelly 1988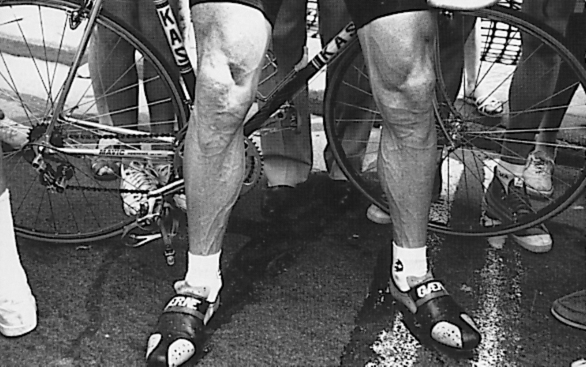 This photographer knew the picture that people would remember and that would shine a light into Sean Kelly's character wasn't of his face; the story is all below. These are legs only a cyclist could love.
In 1988 these legs won Paris-Nice for the seventh time, Gent-Wevelgem and his only Grand Tour Victory, the Vuelta a España, at that time, held in April. He raced to win from Paris-Nice in March to Lombardia in October with no peaking, or vacations, just single minded ambition.
You have to stay with the lithe Spanish climbers to win Vuelta. Kelly's legs show no extra fat and no lack of might.
There he sits on the top tube of his Vitus 979 Aluminum framed race bike, answering questions in his hard- to- decipher Irish brogue. Even in black and white, one can see he is deeply tanned. No sunscreen and no Look pedals for Sean- he was possibly the last man in the peloton to switch. He always rode a bike that looked too small and cramped. Perhaps this wouldn't have worked for anyone else but how does one argue with his method?
For all The Rules followers, study the socks. Ponder carefully, for this is what yours should look like: white and the perfect height. This is the way to set off tan, veiny, incredibly powerful legs. Do your legs look like these? No, I didn't think so, but these socks would be a start.
The Rules readers might also study the gearing; maybe a 23-tooth sprocket as his largest on his seven speed freewheel and 52 and 42 chain rings up front. This must have been a very hilly course. Rule #5 was his middle name.
For my money, American writer Robin Magowan's books and articles about this cycling era are without peer; his summation of Kelly is perfect.
It is customary to talk of Kelly as quintessentially an Irish rider. For my part, though, I think it helps to place Kelly better as a cyclist to see him as the last of the Flemish riders. This is usually a title associated with the post-war rider, Briek Schotte who has become appropriately enough the man in day-to-day charge of the de Gribaldy teams. As exemplified by Schotte it stood for a certain type of mentality, willing to suffer, narrowly focused, and hard, hard, hard. Kelly had all this in him from his Irish small farm background: the outside loo; the dogs that have to be chained before you can step from your car; the one career possible, as a bricklayer on a construction site, stretching away and away into the grey mists. On the positive side, along with the self-reliance, came a physical strength that even by peasant standards is impressive. In a profession of iron wills, there is no one harder.