Velominati Super Prestige: Giro d'Italia 2012 Stage 20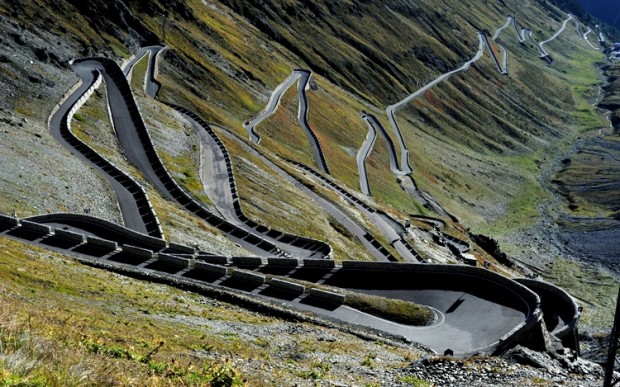 See that huge mountain over there? The one with the steep, twisty road going up it? The one that is often covered in snow this time of year? Right, race ya to the top.
I don't know what more there is to say about this year's Giro; four days from the end, with two of the biggest mountain stages yet to come and the G.C., Mountains, and Points competitions are all wide open. Basso is looking perhaps the freshest of the favorites, but Hope of a Nation is not looking to be weakening, either. Purito hasn't shown weakness, though he also hasn't really been able to show the speed he usually has on the uphill finishes; on his trademark uphill finale attacks, the slower men have (usually) been able to contain him. The Pony, on the other hand, showed his scars as he cracked on the way over the last hill on Wednesday's stage and seems to be on the down side of his good form as we enter the final stretch.
Friday's stage may well solidify the looks of things, but Saturday's stage to the top of the Stelvio will be fireworks for sure. Clear your calendars for Friday and Saturday; this is going to be good.
Since this is a Tour stage, point on offer are 5 for first, 4 four second, 3 for third, 2 for fourth, and 1 for 5th. No bonus points for the right rider in the wrong place. Get your picks in by the time the countdown timer goes to zero. Points count towards your overall VSP total but do not effect your Giro VSP total. Good luck.