Velominati Super Prestige: Milano San-Remo 2012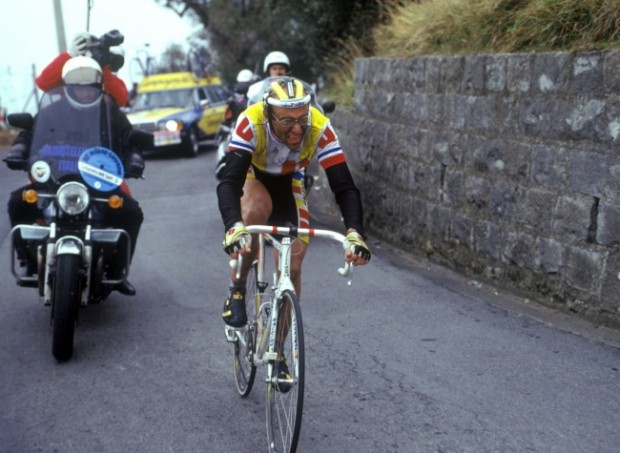 The Poggio. It's probably one of the most famous easy climbs in the world; going through old cycling photographs, I rarely come across one where the leaders haven't moved Sur La Plaque. It has a reputation, however, for being a real leg breaker, mostly because any climb is a big climb once you cross its summit after a paltry 291 kilometers. And the descent provides one of the twistiest, most exhilarating finales in the sport.
This race stands apart as the longest on the calendar, and represents the only of the five Monuments where the sprinters have a chance at final glory. But this can have it all: the long, solo break routinely makes it to the finish uncaught. The final attacks on the Poggio regularly stick. The attack that goes away on the climb often gets caught on the descent. And, sometimes the whole thing stays together for a bunch gallop. Essentially, any ride who is on form has a chance at glory. This is a unique race.
The question on everyone's mind is wether Cavendish can get over the Poggio in position to make it to the finish in the first group. If he does, then you can jot down the winner right now. He's lost some significant weight in the last few weeks, so his climbing should be good; we also have it on good authority from our eyes and ears on the roads in Italy that the Manx Mouth has been spotted training in the hills of Italy with the express intention of making it over the last bump. If, on the other hand, he gets spat out the back like a rainbow turd when the road points uphill, it will be a free-for-all. The fast semi-climbers with descending skills like Nibbles are talking big about their chances. And who in their right minds would ever discount Faboo with his brommer or Gilbert once he fires the howitzers.
So rub your lucky rabbit's foot and throw some salt over your shoulder; you're going to need some divine intervention on this one. This year's VSP is also the first year where we'll be offering a special badge to the winner of the monuments. We can't unveil the MSR Badge yet, but the winner of this VSP event will have the honor of posting with the badge until next year's event. The winner will also receive a free Symbol Pack. Check the start list and get your picks in by 5am Pacific on Saturday morning; if timezone arithmetic isn't your strong suit, just watch the countdown timer in the banner at the top of the site. As usual, your points go towards the overall VSP as well.
Good luck.