Velominati Super Prestige: Tour de France 2012, Stage 16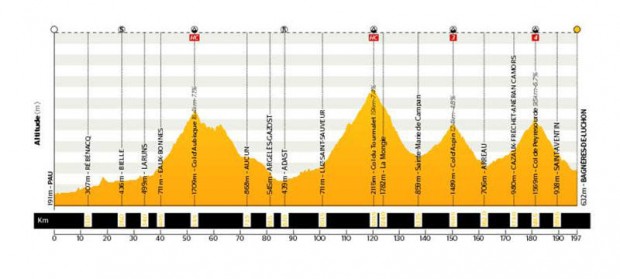 Which bold rider has this stage circled in their tour bible? Wednesday July 18th, Stage 16, 197 km. The day after a the final rest day. A climbing day with two HC climbs followed by two Category 1 climbs and a serious descent toward the finish. The Aubisque, Tourmalet, Aspin and Peyresourde: you better be a fearless climber and a good descender, but a better climber. This is not a stage for Sagan or Fränkie Schleck (sorry Frank). If Wiggo was going to have a bad day, this would be a special one to have it on. And this follows a rest day? Could the weather finally make a difference?  Will the mad tacker return? Will climbers just try to survive this stage to perform on the fearsome Stage 17? More questions than answers in the Velominati Super-Bunker.
All VSP bettors better give an extra shake of the monkey bones before casting them down. Study them well. There is much at stake: Fizik R3s for the winner, 2 pair of DeFeet socks for first loser. The rules are the same as for the first single stage VSP. Points are awarded for correct place only. Delgado might have enjoyed this stage but don't be like him.