Il Progetto, The Project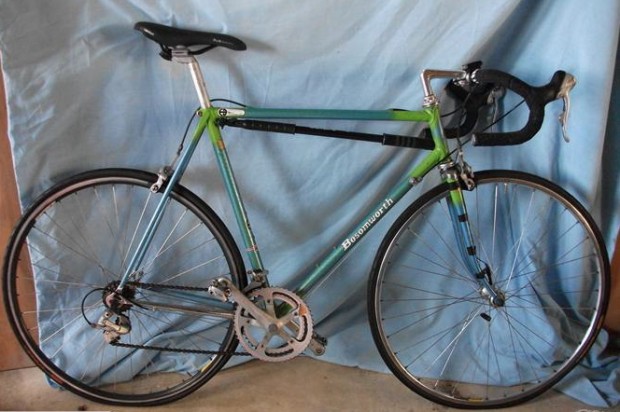 I've spent a lot of time of late looking at 'vintage' road bikes on the interwebs. It all started when thinking about what my 'dream bike' would be, and invariably the frame material of choice was steel. Beautiful modern-day frames from the likes of Baum, Speedvagen and Italian classics Colnago and De Rosa were high on the list, and high on price, something that kept the 'dream' in dream bike. Then I struck on the solution;  surely people are selling off the old 'ten-speed' from under the house, not knowing that the old girl that had been handed on by Grandpa, who was a bit of a cyclist in his day, was worth a little bit more than the pocket money that they were asking just to save them the hassle of taking it to the dump.
Trawling the pages of TradeMe (the Kiwi EBay) started taking up my evenings, interspersed with endless forums that showed some of the most beautiful restored bikes I've ever seen. And like the awesome bikes my father has painstakingly  rejuvenated (and which we chronicled on this very site) they invoke the beauty and simplicity of the time. Beautiful to look at, but I wanted something I could ride as my one and only road bike. The plan was hatched.
So I found this old girl, a Columbus SL-tubed, locally made machine, and watched the auction with intent. When the time to bid came, cold feet got the better of me, and I passed, as did the cut-off with no bids put in. The next day, a slew of emails to guru of all things Euro, steel and cool, Oli, gave me the impetus to get the ball rolling. A buy-now offer was taken up, and for the princely sum of $220 NZ (about 50 bucks US) I had the Bosomworth secured. The next step didn't come so cheaply though, but with a sale from the NZ distributor happening, the necessary group was ordered; Chorus 11 speed will be gracing the old girl, and some Shamal Ultras are being watched closely too, or I may just plump for some new Nuetron Ultras to complete the build. I've just bought a sweet Italmanubri quill stem for peanuts, and a post and headset are the next targets. (Wheel and component suggestions welcome.)
It may not quite be the dream bike, but it's going to be fun to convert it into something close. So out with the carbon and in with the steel, out with the Japanese and in with the Italian. Even if the frame ends up not floating my boat, there are some back up plans in place.
I'm excited.