Domestique of the Week: Jose-Luis Arrieta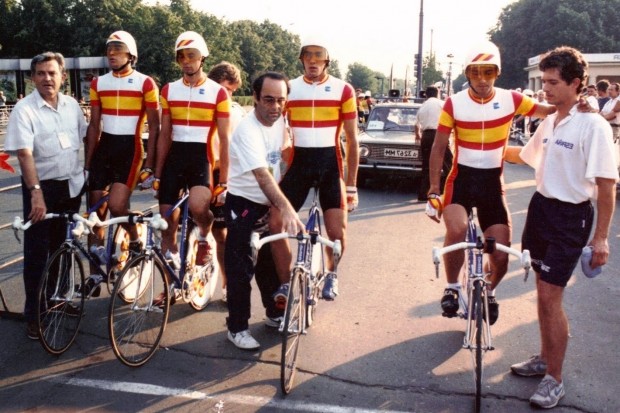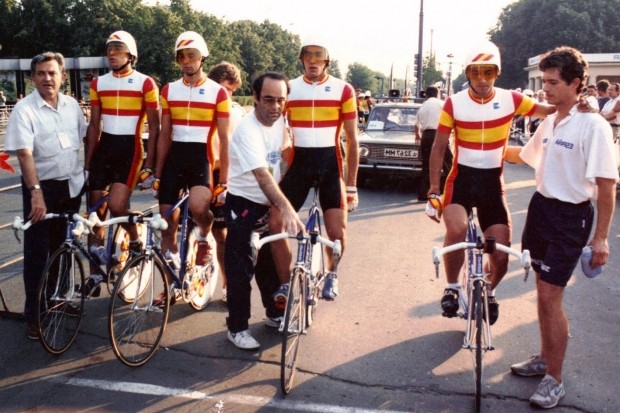 Yesterday, Cyclops posted a link to a story about the abandonment from the Vuelta and subsequent retirement from cycling of Jose-Luis Arrieta. Nice work Cyclops. This man deserves a special mention. He's pictured on the far right above and just a glance at his kit indicates the length of this man's years as pro.
Unless you're an ardent cycling fan who's been following the pro peloton for many years you may not be all that familiar with Jose. More than likely his is just one of the 180 or so names that you see on a start list that aren't among the 10 or 15 riders you're watching. Arrieta didn't necessarily fit into the "also ran" category as much as the "ran in service for" category. I think there's a good bit of integrity that comes with that. With only two professional victories to his name you may also think his career was not all that special. Well, consider the following: Of the 23 Grand Tours he started, this year's Vuelta was only the second he didn't finish. He was tossed out of the '98 Veulta for a bit of fisticuffs exchanged with Roberto Sierra(correction, it was Ramon Gonzalez Arrieta who was thrown out, not Jose-gracias @Luis). By my count, that's 21 Grand Tours he's completed since turning pro in 1993 with the Banesto squad.
He is much chronicled on the interwebs for his support of Big Mig's failed bid for a sixth win in Paris in 1996. Upon his abandonment the other day at the base of the same climb where Indurain curtailed his career as a bicycle racer, Arrieta said this: "Sad to have to quit in such a way. You find yourself all alone, just as Indurain did then, and you think back over all the things that you have experienced in cycling." That statement is fraught with dichotomy. I imagine the life of a domestique can, at times, feel quite lonely for having done so much of the work in service to those who reap all the fame and glory. But on the other hand, think of all the tremendous experiences Arrieta must have had riding his bicycle all over the world with so many of the great riders of our time.
The Velominati tip our cycling caps to you, Sir. Chapeau for a long career, your dedication and loyalty, and may you continue to have many wonderful experiences on your bicycle.