Study of a Toolbag: The Assos Guy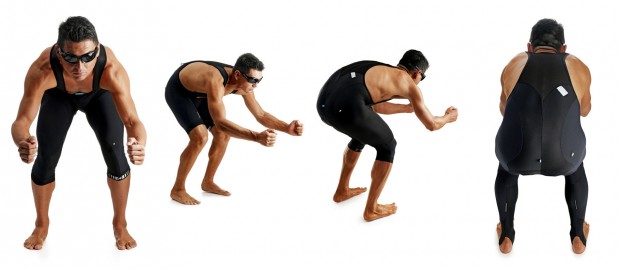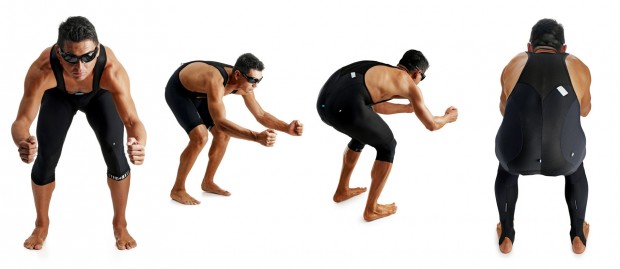 Until I started wearing the sacred threads of the V-Kit, I believed firmly that Assos produced the finest clothes in cycling.  Their winter clothes are toasty-warm and lack the bulk of most winter garb, while no epidermal cell has ever been lost to chaffing while wearing a pair of FI.13 bibs.
For a company who has such a stellar reputation in the construction of cycling clothing, I can't understand why they have hired a sullen-faced body-builder who would look less out of place delivering lines like, "Hello, I understand your pipes need to be checked" than he does modeling cycling clothes.  That said, it does appear he has a talent for flexing every muscle in his body simultaneously – including those in his toes, and I suppose I can admire that.
That talent aside, take the photo in this article, which I found on The Google. I assume he's demonstrating how to ride the Batcycle projectile, but  that's not really a bicycle and is also fictional; as such I can't see the relevance of wearing a pair of bibshorts while pretending to ride one.  Besides, everyone knows you need a cape to ride any of Batman's gear. It's protocol.
I also don't understand why a company like Assoss would hire a guy with a shirt allergy to model their clothes. After all, since I am to understand Assos also sells jerseys, I would have thought it a sound business decision to find a candidate who, in addition to pulling off an excellent Blue Steel, should also be able to occasionally drape a garment over his chiseled abs.  But, as they say, hind-sight is 20-20, and since I wasn't there, I shouldn't pass judgement on their decisions.  Besides, they seem to have repeated the decision when choosing the model for their womens line, so maybe it's part of their strategy.
In any case, for a company who makes the worlds second-best cycling kit, I recommend they shift to a marketing scheme that involves using people who occasionally ride bicycles to model their clothes.