The Wearing-o-the Kit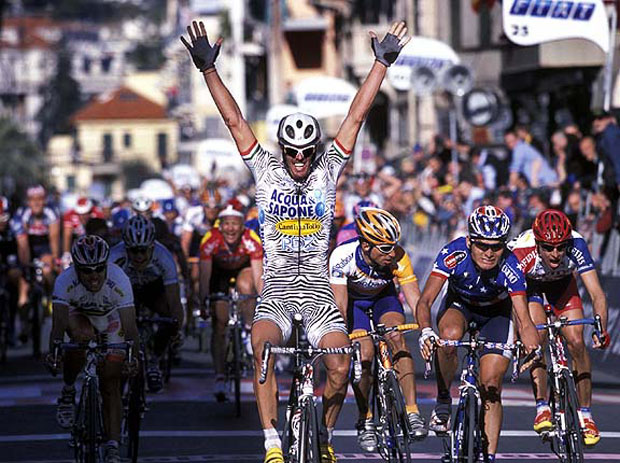 Is it awesome to wear matching jerseys and shorts? Yes, but it took me a long time and a trip to Italy to have this revelation. Is it a violation of The Rules (#14)? Perhaps.
I always had a drawer full of black bib shorts and a drawer of jerseys. It makes it easy to get dressed to ride, black goes with everything. Grab clean shorts, meditate over jersey selection and boom, suit up. I was never compelled to buy a professional team kit as I've never been a rabid fan of any team, any rider or any team kit. I may become Sean Yates in my Motorola jersey for a fleeting few seconds but that's about as far as it went until I finally made it to Italy.
When driving around near Lucca I kept seeing older guys (my age) out on the road, a foot from the tractor trailers, unfazed, fit, wearing matching jerseys and bibs. I didn't recognize the kits but these guys looked impossibly good and since I'm a devout Italophile, that's all it took for me. If that's how it's done in Italy then I'm all in.
Luckily Cervelo rider Ted King (self-anointed King of Style) agrees with me.
Among a smattering of other worthy reasons, cycling rocks because you can experience exactly what we pros experience. You can ride the bikes we ride, wear the helmets we wear, pedal the roads on which we race… and you obviously have the opportunity to rock the clothes we wear. So why the crap not?

Moreover, if you're going to piece together a bicycle outfit, instead of the ragtag/patchwork look, why not look good when doing so? We look good, so you sure as heck might as well hop on the bandwagon and look nearly as good as we do.
I had a run-in with the KoS about my issue with tall socks (and punctuation) but we have agreed to disagree about sock style. Ted's website is worth a visit as he is a well spoken pro and he gets to hangout with Thor.
In truth I don't really own (or wear) too many matching kits even now. I own two local club outfits and now four Euro-esque pairs, one set I really can't wear much because I look too much like Cipo in his zebra Aqua Sapone days and it scares people. I bought an early (pre) Garmin-Slipstream set as I am a fan but never dared wear it when the team was in the same town for two weeks training. Everyone would be embarrassed if we intersected.  But my wife and I are now killing it in our Heinrich and Henrietta Haussler Stylin' All White Cervelo outfits*. In mine I am actually descending more boldly as I channel H.H. from the wet Stage 13 of the 2009 TdF. All is well unless Heinrich turns out to be last doper of many dopers from the doomed Gerolsteiner team.
So don't be afraid as neighbors look askance and they pull their kids inside as you leave the house in your bright billboard of matching jersey and shorts advertising, say, an Italian cement company. Wear it loud and wear it proud knowing looking good on the bike is important and it's the Italian way.