AoP: Never Too Much Muur
You can never have too much Muur. It's a proven scientific fact that too little Muur can be detrimental to a Cyclist's state of mind, even if they have never ridden the most iconic climb in Flanders. And if they have, then the withdrawals are something not to be taken lightly. Every so often we need to top up the Muur bank throughout the months between April and April, the only month that brings genuine joy to the racing fan.
Whilst July is a test of mind-numbing boredom induced by a three-week wait for the inevitable to conclude, August sees the greatest little stage race take place on the kassien and grunty climbs the home of Cycling is littered with. The Eneco Tour is like a six-day Classics campaign, like back-to-back Dwaars, E3s and mini-Rondes. The men of Spring get another chance to perform on their preferred turf, but in weather that doesn't require Flandrian Best to be deployed. Though Vlaanderen being Flanders, there is naturally a bit of rain about, only adding to the race's aura.
This photo from 2013's Tour illustrates that even during the summer, even during the week, even during the day, the magic of the Muur is not to be missed. Sure, there are a tenth of the people that would crowd the wall during the halcyon days of the Ronde, but even Colnago Pullover Guy is there, albeit subdued, just checking things out, marking his territory like a naughty chihuahua. I'm not sure what Flemish for "Laaadies…" is, but I' pretty certain he's about to drop it.
Even with the Worlds in full swing, my thoughts turn to the Muur. The cobbled roads are a powerful drug, and I'm an addict in need of a fix. Just seven more months, just seven more months…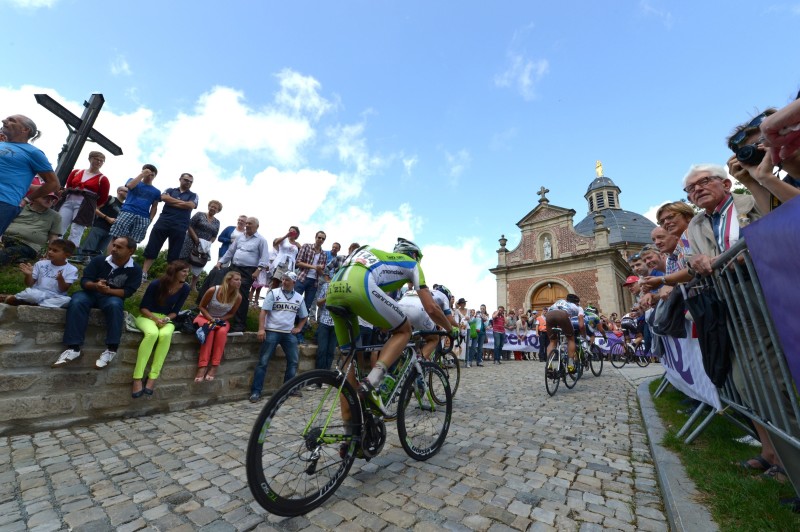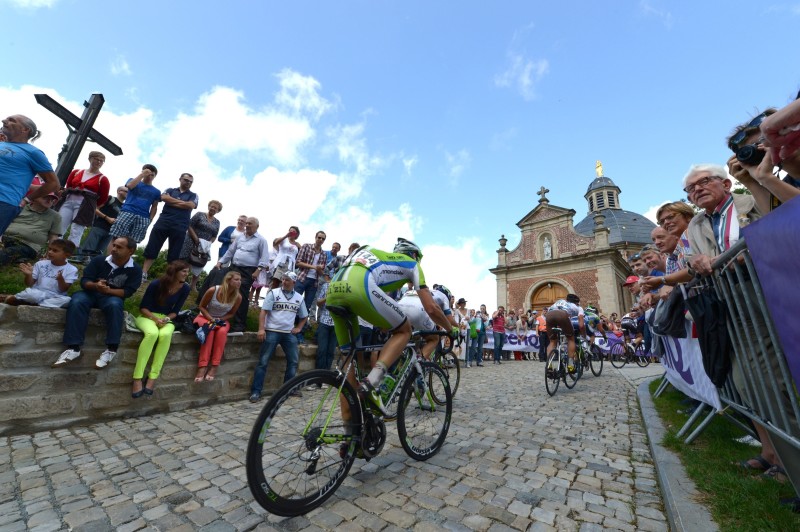 *Click on photo for detail, you won't regret it.