Portland Oregon Cogal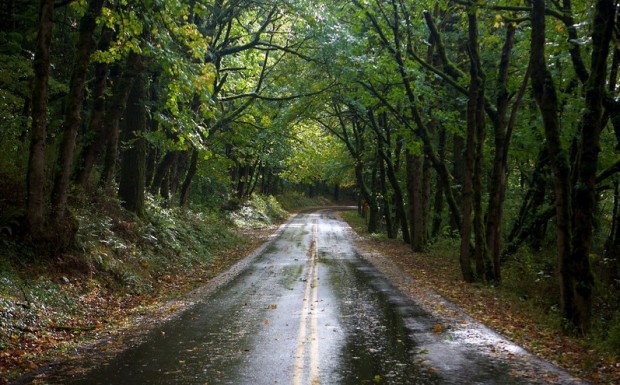 Ah, the Pacific NW in winter, who can beat it? To ride in the foothills of some of the most majestic snow-capped volcanoes on the planet, with views of the Pacific Ocean or Puget Sound (which is almost the same as a view of the ocean).
Anyway, take my word for it that all that is out there somewhere, because those who join us February 4th for the Portland Cogal will be be wrapped in clouds and drenched in a cold, drizzly rain. But a little bit of Rule #9 riding never hurt anyone.
Yours in Cycling, 
Frank
—
Portland Oregon in Fabruary: Highs 7.5C, Lows 2.6C average. Near 16cm of liquid sunshine. This is not Palm Springs. I do have respect for those of us that ride in high temps, I actually prefer it hot most of the time. Perhaps I misunderstand Rule #9 as it addresses both ends of the mercury scale, but we Velominati seem to gravitate towards the spring classics, and the images of hardmen; cold, wet and reveling in the moment.
McSqueak and I, under direct pressure from Fronk, planned on doing this in December. As we talked, December is a hard month for folk to get out of town. There's a lot of meditating on Airing of Grievances. Family obligations. Made more sense to have it in the year of the Mayan Apocalypse.
On February 4th at precisely V past VV, we roll out from Carter Park at the corner of W 33rd Street and Columbia Street in Vancouver, WA for 127K ride. It rolls out flat with a couple little bumps along the Columbia River. Then up part of the Historic Columbia River Highway along the Sandy River. A bit of Sur La Plaque climbing, then a quick decent back down to the Sandy. A few pretty big climbs and descents, a stroll through some wine country, back along the Columbia River and back to my house for beer and food (in that order). Fantastic views of green fields, evergreens, the mighty Columbia, Mt. Hood, wine country and great, lightly traveled roads most of the way. Except it's fucking February in the PNW. Probably won't see the mountains.
Couple of details; I'll emphasize again that it is February. Probably won't be any snow but I can almost guarantee cold rain. After about 30K, there is NO bailout point, except turning around and backtracking. The MapMyRide climb profile while accurate, understates the climbing. This is a hard route on a sunny day in July. I'm also suggesting a Casually Deliberate pace, but years of riding have taught me one indisputable fact: two or more cyclists going the same way will get competitive and drive up the pace. That, combined with the climbing, will almost certainly see separate groups forming. If the group splits, we'll regroup at the top of the major climbs and at intersections where we need to make a turn.
Make an honest assessment of your ability to finish the ride (no sag support); we will be riding the rolling sections of the ride in the neighborhood of 25-30kmph and the climbs will be ridden at whatever climbing speed works for you. Let us know if you're planning on attending so we have a head count for food, bring some hoppy beverages, and come bathe in the glory of a full Rule #9 day. We look forward to seeing you.
Route and planning details can be found on the Portland Cogal Page
[separator break="true"/][productphoto thumbnail="http://velominati.com/wp-content/uploads/readers/frank/2011.11.15.00.46.49/cogal_v-cog.png"/][product buttonid="Y5JK65MQFHRA2″ name="Cogal V-Pint" price="30.00″ optionslabel="Cogal" options="Portland, Oregon 2012″ /]Attendees of Cogals may order Cogal V-Pints, emblazoned with the name of their Cogal. These are intended only for Cogal attendees and are shipped to the organizer for pick-up at the event.
The V-Pint will be shipped to the Cogal organizer. Shipping charges are $8.00 USD for US domestic orders, $12.00 USD international.[separator break="true"/]