Biography of a Velominatus: Gert-Jan Theunisse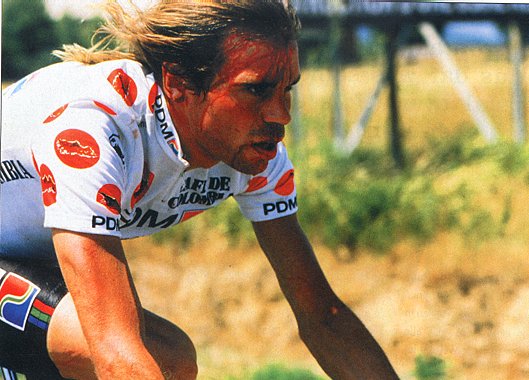 The last Dutchman to win the KoM in le Tour was Gert-Jan Theunisse. He was also the last Dutchman to win atop Alpe d'Huez. The year was 1989 and I was too busy riding crotch-rockets, water skiing, and coiffing the plumage of my mullet to notice much else besides an American and fellow Minnesotan had just won the closest tour in history. But that last bit about the mullet, and that he's a cyclist, piqued my interest in the man who's name holds a spot on the eighth corner of Alpe d'Huez. Eight Dutch riders have won on the Alpe. Only two have gone on to win the polka dot jersey.
Boxing Theunisse into the Evanescent Riders of the 90's category seems fitting. His career as a pro road racer displayed flashes of "brilliant" riding and was riddled with positive controls.  Though his professional road tenure spanned 11 years, his notable palmares were all garnered between 1988 and 1992. These include the previously mentioned KoM at le Tour as well as the top spot at San Sebastian, a stage win at the failed Tour de Trump, and an overall and stage win in Luxembourg. Oh to be back in the day when a rider received a 10 minute time penalty rather than a two year ban for pissing a positive. That said, I wonder if it isn't more appropriate to say positive riders of the time were 'caught out' as opposed to 'caught up' in le dopage.
One could also make an argument for Gert-Jan's hardness on the Jens Scale. His palmares may not quite make the case for him being an Unsung Hardman but the adversity Theunisse has overcome comes closer.  During the second stage of Terrino-Adriatico in 1995 Gert-Jan was diagnosed with a heart problem and abandoned professional road racing. After being struck by a car while mountain biking he was paralyzed in 1997. He was unable to walk for six months but slowly regained his mobility and began coaching in the fastly growing mountain bike scene. Then in 1999 his heart trouble resurfaced in the form of a heart attack. Despite, or perhaps because of his injuries, he relocated to Majorca and rode himself back into form on a mountain bike where he met with success in European mountain biking.
[dmalbum path="/velominati.com/content/Photo Galleries/[email protected]/Gert-Jan Theunisse/"/]
[youtube]http://www.youtube.com/watch?v=cjZt3kleCb8[/youtube]
As with all of the lauded riders on these pages, Gert-Jan Theunisse seems to be as a complex character as they come. Two things stand out about him for me. The first is that his Spotted Jumper victory in 1989 is largely overshadowed, understandably so, by one of the greatest G.C. battles of all time. But to be able to reflect on riding le Tour in 1989 and being witness to such an epic, let alone winning the dots, would be fantastic. The second, which I think is the more interesting, is that pro cycling was cruel to Theunisse. Sure he made his own choices but in the end he chose to stick with what he surely knew and more than likely loved, riding a bike. Others could be forgiven for walking away from two wheels forever. Chapeau, Gert-Jan Theunisse, you are a true Velominatus for continuing to ride.