Indoors at the V and Dime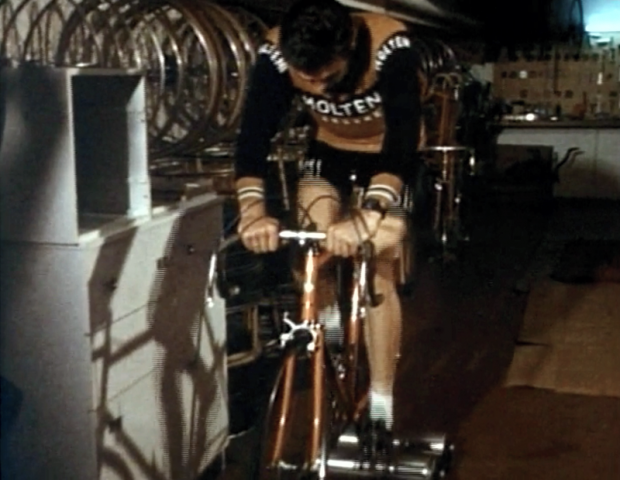 If we liked breathing stale, recycled air, we'd all take up a sport like wrestling or indoor fly-fishing. But we love the feel of a gale on our faces. We cherish the smell of cow manure filling our nostrils with its almost tangible grittiness. We hold scared the privilege to breathe in diesel fuel while doing hill repeats up l'Alpe d'Huez.
But such whimsy is not for every day. Occasionally, we find ourselves faced with the prospect of an hour of solitude upon the wind trainer or rollers, where our sport is transformed from a glorious experience of powering ourselves along with only Nature for company to one where a ride of 30 minutes is barely tolerable, 45 seems like a lifetime wasted, and 60 minutes is more than most of us can even consider enduring. 60 minutes on the trainer at a leisurely pace or a 4 and a half hour death march up a barren, heat-riddled climb? I'll take the 4 and half hours every time, thank you very much. 
We all have to do it, and there are even some redeeming qualities to be had.  You get better at Rule #5, for one. You develop a more magnificent stroke, for another. Whatever the redeeming qualities, we all have our way of coping.  Jeff in PetroMetro returns with his view on how to make it suck just a little bit less.
Yours in Cycling,
Frank
—
Either due to life-threatening  weather or poor scheduling of life's lesser priorities (see Rule #11), we Velominati spend a little time each year riding indoors.  Whether one enjoys a ride on rollers or a trainer, and no matter if one methodically spins (as all good recovery ride specialists do), grinds out intervals, or practices ways to improve one's magnificent stroke (scrape the mud off your shoes, scrape the mud off your shoes…), death-by-boredom is always a possibility.  I'm not one to go for videos, or read books, or hook up to a computer.  Call me old fashioned. I like to meditate on the V with only the voices inside my head screaming for mercy from the pain of a complete lactic acid meltdown.
Or, sometimes I like a little music.
Back in the Dark Ages, I used the yellow (sweatproof) Sony Walkman to play my favorite homemade training cassette tapes.  But in our modern days of inexpensive digital storage, and with the brilliant invention of the "shuffle" command on my iPod Nano, I have some seven hours of musical motivation to keep my indoor sessions lively and loud.
I thought I might start a little conversation regarding favorite training tunes.  Now, I know ALL of my fellow Velominati strictly adhere to Rule #62 when riding outside.  And of course, we prefer strict adherence to Rule #9, but, as I stated above, shit happens.
While I have eclectic taste, I don't fancy Al Green, Buck Owens, or Duke Ellington when loving a Rule #5 beatdown.  No.  I tack to the loud and fast.  My preferences are punk and "classic rock". (It was just rock when I first heard it.)  So here's a little flavor of my indoor training selection, in no particular order.
Hate to Say I Told You So""The Hives""from the album "Your New Favourite Band"
Tick Tick Boom""The Hives""from the album "The Black and White Album"
American Idiot""Green Day""from the album "American Idiot"
The Rock Show""Blink 182″"from the album "Take Off Your Pants and Jacket"
I Fought the Law (Live)""The Clash""from the album "The Clash:  Live at Shea Stadium"
Batman Theme""The Jam""from the album "In the City"
Communication Breakdown""Led Zeppelin""from the album "Led Zeppelin"
The Real Me""The Who""from the album "Quadrophenia"
Rock Around the Clock""Ten Pole Tudor""from the album "The Great Rock'n'Roll Swindle"
Of course there are many, many others.  But I offer these few picks-to-click to perhaps start a little discussion and get some musical ideas for my next indoor shopping spree at the V and Dime.
A-Merckx