Reverence: Velox Fond de Jante Rim Tape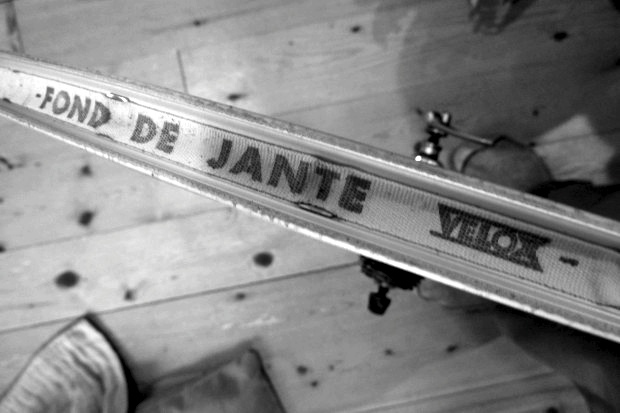 The very first time I ever pulled a tire and tube off of a rim it made an impression on me and it still does. I'm not sure I expected to find anything other than the tube between the rim and tire but there it was, some sort of tape. The French words, "Fond de Jante" and latin "Velox", written in blue, lightly stamped upon woven adhesive-backed cotton-canvas. It had at once both a timelessness and a retro look. Running my forefinger over it as it covered the eyelets of my rims I imagined a French bicycle mechanic of old masterfully building wheels that pro teams from the 60's and 70's might use.
We can still look at our machines and see flares of tradition that remain from technology which has trudged on. Round drop-bars and gleaming bits are remaining vestiges of the classic machines of our sport.  These throwbacks are often obscured by contemporary things like modern materials, ergo shapes and compact geometry. But hidden between layers of rubber and aluminum, like a business suit belies fine lingerie, adheres Le Fond de Jante, literally the "base of the rim".  The true story of Fond de Jante can be found here.
You might say all this pradling on about rim tape may be much ado about nothing. However, no detail is too small nor can it be overlooked by the Velominatus. I've heard other companies manufacture and sell rim tape but when you're given Rochefort 8 for your first beer there's no use in even considering anything else. So chapeau to our friends at Velox for making the finest rim tape that's ever protected a tube from puncture.