Beer, Frites and Mayonnaise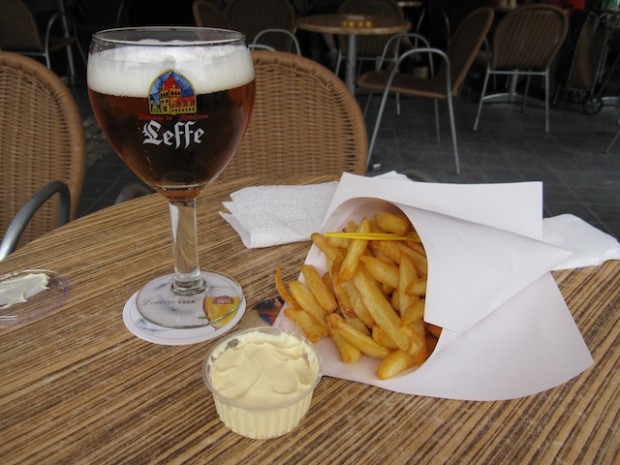 Riding the stones of Paris-Roubaix, in the Spring, in crap weather (it's possible) and finishing the ride in the velodrome in Roubaix* should be enough enticement for any right thinking cyclists to jump on to this event. It gets better, watching the race in a scrum of drunken-loud-mad-fans, everyone covered in a sheen of beer, frites and mayonnaise. It's an experience of a lifetime. Do you still need more? Perhaps riding the last fourteen bergs of the Ronde van Vlaanderen, being your very own Boss of the Bosberg and then spectating this race, again the loud-drunk-fans, the sheen, the madness. Fabian Cancellara shall pass by so close he may wink at you as he drops the hammer on Boonen, again. How about a personal ride with the Lion of Flanders, Johan Museeuw? It does not get better than this, I'm sorry but it can't.
It can't yet it does, a tour of the Merckx bike factory and the Ronde van Vlaanderen Museum at Oudenarde. That is correct, we are going to museums, all right, a museum and it's a museum about bike racing. There is much more fun crammed into this nine day holiday than should be allowed, please regard the original post for all the information.
This is the fantasy camp of a lifetime for cyclists. If not for yourself, dear reader, then bestow the holiday gift to end all gifts on your mate. The Velominati are united in a love and appreciation of cycling and the Spring Classics are a distillation of all things Hardman and beautiful.
Not to belabor the awesome factor, here are just a few more items:
Our guides, Pave Cycling Classics, are partnered up with a brewery.
We may not be invited back.
If you are ever going to break your clavicle crashing on your bike, breaking it on the stones of Paris-Roubaix would get you bragging rights for a lifetime.
There is the potential for shaking the hands Johan Museeuw, Eddy Merckx and Freddy Maertens on this trip.
Possibly the only chance to meet Frank and Brett at the same time, over Belgian beer, to argue the finer points of all things Velominati. Worlds are colliding and there are still open slots for this Tour. Spread the word to your fanatic friends.
[banner /]
*disclaimer from our legal department: unconfirmed but in the works.