Unforgettable Rides: 1993 Paris-Roubaix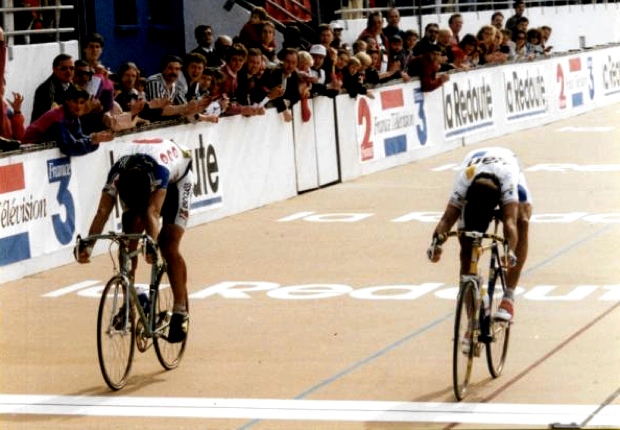 In 1993, before the UCI put a stranglehold on the means by which riders sought to go faster, innovation flowed through the peloton. Training methods evolved rapidly (apparently in tandem with the potency of the drugs available at the time) and bicycle design was in a period of exciting change spurred on by Greg LeMond's win in the 1989 Tour de France after using aerobars to overturn a 50-second deficit on Laurent Fignon.
Paris-Roubaix, more than any other event on the calendar, would see some of the most dramatic experimentation, as riders lost themselves in their pursuit to smooth out the race's brutal terrain. In a five year span, we went from LeMond fitting Rock Shox to his bike to Johan Museeuw showing up aboard a full-suspension Bianchi. The Rock Shox were at first met with raised eyebrows and thinly-veiled snickers until Gilbert Duclos-Lassalle used them to roll over the finish line as the victor at age 37 in 1992. Not surprisingly, 1993 saw many more machines sheepishly toeing the start line with products borrowed from Mountain Bikes, including the GB Team's custom-built Bianchi's decorated with Softride suspension stems.
Balance is a critical component in cycling. Balance between rider and machine, of course, but also between comfort and rigidity. As anyone who has ridden with font-suspension will tell you, what is good over the cobbles may not be as good in a closely-contested finish. Gilbert Duclos-Lassalle, the defending champion, and Franco Ballerini, the upstart Italian, broke away together and, with their front-ends quivering like plates of over-cooked pasta, made their way to the velodrome.
The Italian's confidence in his sprint was matched only by Duclos-Lassalle's experience on the track. The two wobbled their way to the line, sprinting as hard as their soggy forks would allow and threw their bikes with a synchronization that would be the envy of any Olympic swim-dancing team.
Ballerini was certain he'd won. Duclos-Lassalle wasn't so sure he'd lost. The referees went to the photo and served Franco a juicy slice of humble pie, in what was one of the closest finishes in Paris-Roubaix ever. Ballerini swore he'd never ride Roubaix again, but nevertheless won it in 1995 and 1998. Solo. On a bike without suspension.