Guest Article: Willem's Experience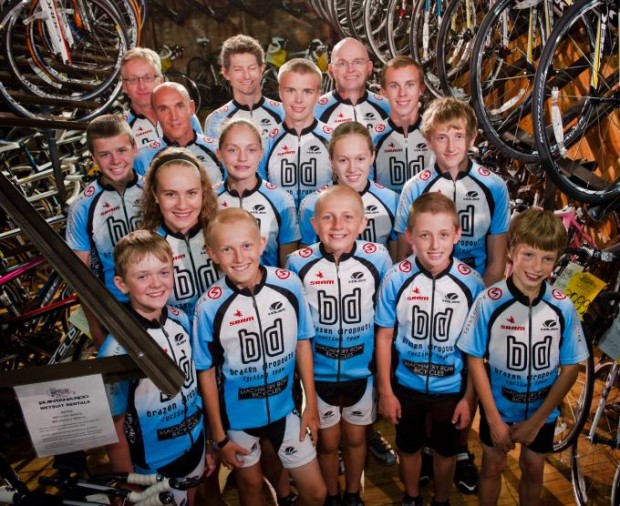 This guest post was sent to us from Frank's sister about her son Willem. When I read the post I was thinking Frank's sister had written it and that all Stracks have the same dreamy cyclo-centric writing style, damn them all. But, as usual, I was wrong. Frank's sister did write this:
This was written by my friend Dan, who took Willem with him on the Rough Ride in Washington, VA …
I had the pleasure of meeting Willem and his dad in NYC during the book signing at Rapha. They were in the city for the Five Boroughs of New York City ride the following day. Willem is a fourteen year old bike racer now.  At dinner he wolfed down his pasta and loaded up on bread. He was loading the guns (if fourteen year olds are allowed to have guns). 
Many of us wished we had discovered bicycle racing earlier in our lives, so I was thrilled to meet a funny, smart, bike obsessed  fourteen year old who is, of course, a Velominatus. 
Yours in Cycling, Gianni.
—
As I sit and the warmth begins to re-enter my extremities, I reflect on the day's ride. It was cold, it was wet and it was everything that makes cycling so great. Emotions are fluid when you are on a bike. They move from high to low for a myriad of reasons, or for no reason at all. Rarely do we ever see this fluid within ourselves when on the bike. We are too taken by the excitement or brought down by our bodies failing us when we need them the most. Today I was able to see from the outside the emotional journey of a young rider as he rode through and conquered his first competitive ride.
As Willem mounted his bike and the start was moments off, I saw the butterflies trying to escape from deep in his belly. He was wide-eyed and nervous as the race started. He settled into his saddle and got comfy with the peloton and I asked if the butterflies were gone yet. His grin said 'yes' but his words said 'no.' Ah, the conflict between his body and mind had begun and Willem was yet to realize it.
Malfunctions of any kind can take even the most seasoned rider out. Willem discovered this as he battled with his Road ID, which refused to stay cinched. Finally calling out in frustration, we stopped and he secured it in his jersey pocket…all he could muster was "We have to make up this time." I smiled as we rode off.
Elation filled him as we passed a more seasoned cyclist. This was Willem's race and so it was his pace. We knocked along at a good clip, along some rollers and descents. He was riding high as the rain came down. His face was clear…nothing was going to stop him! Then the climbs hit us. Willem was about to meet the Man with the Hammer. It's crushing, the first introduction, because it seems to not be when you expect him. Along a cat-4 climb I saw The Man riding side-by-side with Willem, ready to strike and seemingly pulling at his bike back down from where we rode. At the top it was clear; elation was an emotion that Willem would not see again for a long time.
Another cat-4 climb and a turn that was either never there, or missed by his navigator, had this fine young man on a tight rope. Everything in his body said that he had enough, but he trekked on, following unquestioningly the person he trusted to know the way. Again I say "not marked" but when you're on the side of the road and feel lost, blame is irrelevant.
Soon enough the correct route was discovered and the final emotion of the day, the best emotion of the day, was revealed. Willem experienced it crossing the finish line. All the climbs, all the pain was instantly gone. Nothing but pure pride in knowing he did something that most can't or refuse to try. I joked with him after the race; years from now the seven extra miles will become a century. I hope that I am around to hear the story first hand. I am humbled to have been allowed to experience this with a true cyclist during his initiation into the world of racing, and the worlds of pain, frustration and satisfaction they can bring.