The Transformation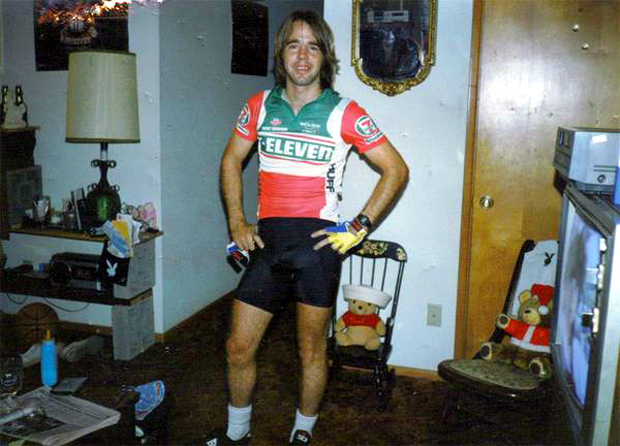 The following is a Guest Article contributed by our community member, Cyclops. Here he presents his lifelong experience with cycling, albeit in an unorthodox manner. Such lifelong relationships with cycling are what La Vie Velominatus is all about.  This story also sheds some light on Cyclops' VSP Picks of, "Eddy, Eddy, Eddy, Eddy, Eddy." We hope you enjoy the tale; if you have an article you would like to contribute, please let us know.
Yours in cycling, The Keepers
—
As is the wont of many kids I started wrenching on Schwinn Stingrays in the 70's. I remember asking incredulously, "How do you stop?" when my buddy told me that the hot set-up for BMXing was something called a 'freewheel'. As is prone to happen, BMX racing fell by the wayside as I discovered girls and then entered adulthood under the nurture of the United States Marine Corps. Once the Marine Corps 'encouraged' me to return to the civilian world, I found myself back to the BMX bike. Due to a form of free enterprise that is frowned upon by law enforcement agencies, I found myself with a windfall of cash and a desire to get an 'adult' bike.
I walked into the Bike Gallery in Portland in my best death metal jean vest and a fistful of cash. I informed the BG minions that I wanted a Bridgestone. This desire was fueled by the simple statement of a room mate – "Get a Bridgestone, dude. They rule."  (This room mate was a fellow stoner burnout who pulled a late life metamorphosis and is now known to the NW cycling world as Eddie French.)  I picked out a Bridgestone 600 and lamented the fact that it didn't have those extra brake levers so that you could brake while having your hands on the flats. I did, however, persuade the salesman to throw on some of those awesome foam Grab-On grips.  In a fate that would be repeated with future bikes, the Bridgestone was soon trashed when I bounced off the back of a VW Bug while playing Ricky Road Racer around a blind corner. Back to the BMX bike.
Ironically, I ended up working at the Bike Gallery (in the BMX department) a few years later. Two of the more anal-retentive mechanics noticed that I had some mechanical skill and that I listened to instruction well, so they took me under their wings and taught me the correct way to work on a bicycle. Being a Marine, I naturally gravitated toward the "attention to detail" aspect of wrenching. I started BMX racing again and all my race bikes were completely dialed-in with Campy track hubs – the only sound they ever made was that of the tire's knobs pounding the pavement or the clicking of the freewheel. I was such a tweeker that since Campy hubs had Grade #1 ball bearings, I would take my single-speed freewheels apart and replace the bearings with Grade #1 and grease 'em up with Campy white lithium.  (As a sidenote, I found myself banging elbows on the BMX track with the then unknown Todd Littlehales. If you are interested in any extortion attempts I have a picture of him wearing pink BMX leathers.)
The mechanics soon started wooing me back to the dark side and I purchased an aluminum Super Record Guerciotti. I had the Guerciotti about three weeks before some wench in (another) VW Bug did a left hand turn in front of me. Back to the BMX bike.
Somehow or another I found myself in San Leandro, Ca looking for work. It just so happens that Bridgestone USA was based in San Leandro. While they didn't have a permanent position for me they did need all their new bikes assembled for the '91 Interbike show; I took the job and found myself assembling show bikes with the infamous Pineapple Bob. I traded my services for a brand new Bridgestone RB-1.
I ended up moving back to (Salem) Oregon and got a job at a local shop. My first day there an unsavory looking gent walked in and loudly proclaimed, "ED-DDDDY!!!!" As it turned out, he was a mechanic at the shop, too. I was, however, curious as to how a fellow bike mechanic could afford a new Porsche 911. As it happened, he was also a surgeon that happened to have grown tired of medicinal politics and decided to snub the medical community by turning to his passion for all things road bike. Most mornings where spent being regaled by the good doctor with tales of Eddy's [Merckx, Ed] prowess. Either that or a lamenting of the doctor's wife's not being able to understand why he works at a bike shop.
For reasons of a marital nature called 'divorce' I found myself in S.E. Idaho in the mid 90's, again working at a bike shop. There was a strong BMX scene there at the time so I was back to the BMX bike. But then 'life' happened and ten years later I found myself fat and bikeless. Four years ago a friend gave me a killer deal on a used Dura Ace-equipped Cannondale and the rest, as they say, is history. Now I'm the one who lives and breathes all things road racing. I've lost a total of 45 pounds over the course of the last four seasons and if you happened to see the article in the Nov/Dec 2009 issue of Road Bike Action magazine called "My First Road Race" (page 76) that's me. It's the story of how in the span of three years I went from a fat lard-ass to winning the first road race I entered – the Bear Lake Classic near Logan, Utah. Since I'll be 50 next year I don't know that I will ever upgrade from a Cat 5 but I sure am having fun! Now if I could just get me something sexy and Italian which also goes to 11, I could die a happy man.
[album: http://filemanager.dutchmonkey.com/photoalbums.php?slide=2&currdir=/velominati.com/content/Photo%20Galleries/[email protected]/Cyclops/]