Keepers Tour: Cobbled Classics 2013; More Cobbles, More Bergs, More Beer, More Legends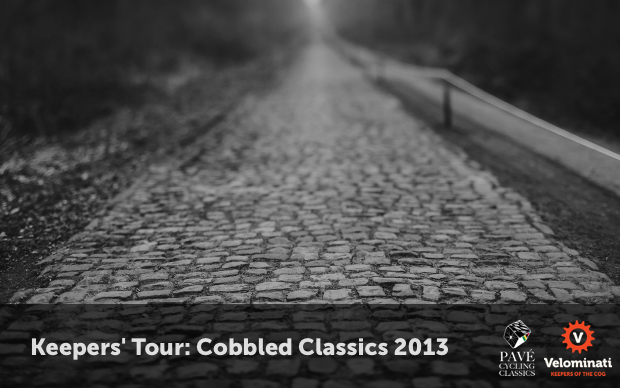 You can't be blamed for thinking it matters which way your wheels are pointed, or that you believe they both should be headed in more or less the same direction at any given moment. From when we first start riding a bike, we're told this is the case; after all, you only have two wheels on your bike, so if 50% or more of them are going in a direction other than the one you're pointed, it presents a conflict which will quickly resolve itself by a phenomenon we refer to as "crashing".
It only takes about seven seconds on the pavé for the rider to learn the fallacy of this lesson. Within moments, you'll find both wheels bouncing along in every which direction, usually on different vectors from one another, and often in different planes as well. This situation generally comes to equilibrium in the rider's mind after a kilometer or so of the first secteur, at which point they are faced with a decent and a corner and the realization that since neither wheel is going in any predictable direction, the reliability of steering will be somewhat reduced.
For those of you who are lucky enough to attend Keeper's Tour 2013 in early April of next Spring, you will spend the time until then preparing your mind and your body as well as possible. You will put in the kilometers, you will ride the roughest roads you can find. And, within moments of your wheels touching the cobbles, you'll realize there is no possible way to prepare for this. The fact is that it doesn't really matter all that much; you'll figure it out. These aren't things you can be taught or prepare for; these are things that can only be learned through experience. But, once you leave the cobbles behind you, relief will fade into yearning. There is a void left by the stones that can only be filled with the bone-shaking rattle of the Pavé du Nord and Kassien in Flanders.
With that, the Keepers are delighted to announce Keepers Tour: Cobbled Classics 2013. As with last year, we're teaming up with Pavé Cycling Classics boys William and Alex and improving on the best aspects of last year's trip. Everyone knows that if it's worth doing, it's worth overdoing, so we've added more cobbles, more bergs, more beer (is that even possible?) and more legends to last year's trip.
Major Trip Highlights:
This year, the Keepers will be co-guiding the trip with the Pavé boys, rather than attending as passengers as in 2012.
Proving that his judgement is as bad as ours, Johan Museeuw has decided that he liked us so much, he'll be doing the Roubaix and de Ronde rides with us. Ever dream of riding the cobbles with a Pro? Well, this is your chance to ride both the Trouée and the Kapelmuur alongside the Lion of Flanders. Don't tip him off, but I'm attacking him in the velodrome.
We'll be trading some museum visits for more riding; instead of the Merckx factory and a Tuesday ride around Kemel as we did last year, we'll be packing up the bus, kidnapping Museeuw again, and driving to Bastogne to ride the second (harder) half of Liege-Bastogne-Liege.
Friday's visit with a Pro team is tentatively planned to be with Team Omega-Pharma Quickstep. This requires confirmation and our "fallback" – if you can call it that – is Team AG2R. Either way, I wouldn't plan on Boonen showing up to chat with us, but maybe we can get someone to bring us one of his dirty socks from the laundry room.
Previsionary Itinerary
Friday : Pick up midday, travel to gite and get bikes setup
Saturday : Paris Roubaix with Johan Museeuw (last 150km)
Sunday : Watch de Ronde van Vlaanderen at the Oude Kwaremont
Monday: Visit the Roeselare National Bicycle Museum & go for an easy ride around Kemmel
Tuesday: Liége-Bastogne-Liége with Johan Museeuw
Wednesday: Track riding at the Gent vélodrome & watch the GP Escault (E3 Prijs Vlaanderen) pro race
Thursday: Paris Roubaix reconaissance ride with the Pros
Friday: Brunehaut brewery visit & visit with Pro Team (Omega-Pharma Quickstep or AG2R)
Saturday: Ronde Van Vlaanderen with Johan Museeuw (150km)
Sunday: Watch Paris Roubaix at three secteurs; optional stay at gite on Sunday
Price: 3990€, All inclusive price includes rides with Johan Museeuw, accommodation for 9 nights, breakfast, lunch, dinner, beer, wine, insurance coverage, sag support, rental bikes (upon request), exclusive V-Lion V-Shirts, exclusive Keepers Tour V-Pint, exclusive V-Mussette, and Pavé Cycling Classics jersey.
Attendees should be comfortable riding in groups and be able to ride 150km several times in a week at a 30kph pace; some groups may elect to go faster but these are non-competitive rides. There will be lots of cobbles, and lots of short, steep climbs – sometimes both at the same time, so prepare yourself accordingly. We will usually have sag support, and riders who are unable to keep up may be asked to climb in the car.
At this time we are accepting reservations for the full Keepers Tour only, though we may include additional packages. We will be adding one-day packages for locals to attend as well. No deposit is required at registration; 50% deposits will be collected 90 days prior to the trip, with the balance due upon arrival. Book Now on the Keepers Tour 2013 Event Page.