Velominati Kit Redesign: Half Turbine, Half Hazard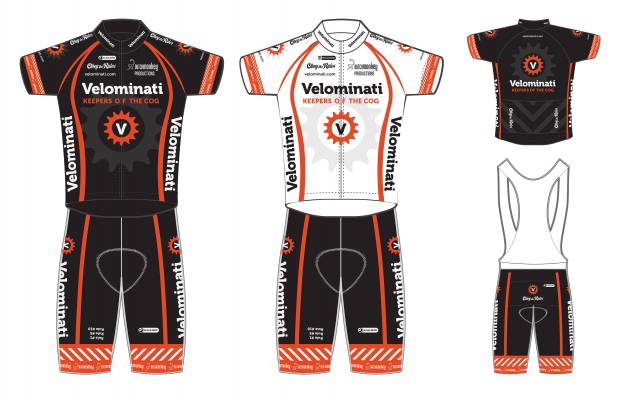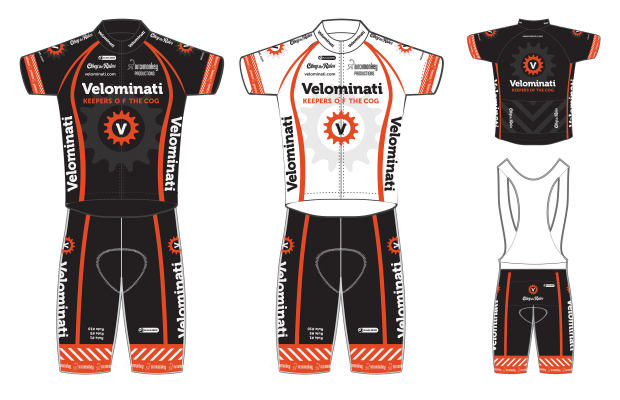 Change creeps in slowly, it has a way of taking the seemingly immutable and eroding it over time. It's inevitable; if the great canyons were carved from the solid rock of Mount Velomis by such a soft thing as water, then it should come as no surprise that the Velominati V-Kit would also change with time. As David St. Hubbins says, "The more it stays the same, the less it changes."
It was time for a reworking of the V-Kit; it had gone unchanged since we introduced it in 2010. Our Guns are one part turbine and one part road hazard warning, after all; we're laying down the V and you had better look out. The V-Bibs were redesigned accordingly. We also made the decision to discontinue what has been confusingly called the Zwarte V-Bib; in solidarity with Rule #14, we have done away with the option for white side-panels and are going Spinal Tap Black.
The Zwarte V-Jersey took a cue from the Witte V-Jersey and gone pure Zwarte; it has lost the white side panels of the original design along with the black-to-gray gradient. Both jersey designs incorporate the turbine/hazard signs on the sleeves and pockets, which are an adaptation of the double-slashes we've taken to using to delimit items in both the site design and the upcoming book design (scheduled for release June 20). We also love the nod to old-skule Descente.
Then came the question of supplier. It began with Velominati needing more control over the product and more flexibility from the manufacturer. At long last we decided to part ways with our long-time kit vendor, Castelli. It felt like a high school breakup; we love the people at Castelli USA and their products but in the end, it simply wasn't going to work out. We sent them a note on a sheet of paper – carefully folded into a secret triangle – and pretended to busy ourselves with our locker's combination so it didn't look like we were watching them read it.
The Velominati have high expectations. We expect the best from ourselves, and we expect the best from our gear. When we talk about quality, we are looking beyond brands and labels and looking at materials, craftsmanship, passion. When I pick up a piece of kit, I expect to feel the labor of love its maker put into it; I expect their love for the sport to help fuel my own. This is why I love old Campagnolo bits and struggle to find that same love for Shimano.
Cycling kit should last a few seasons. It should be durable. Its color should not fade in the sun. It should be cut from materials that optimize performance. It should be comfortable – so comfortable you hardly know you're wearing it. It should Look Fantastic in sun, in rain, in snow, in mud.
In searching for a new vendor, we tested every bit of kit you can imagine testing. The fact is, they are all more or less the same. Most custom kit is made in the same factories with slightly different specs; at the end of the line, a different label is stitched on. In the end, you buy a brand; the quality of the product is a matter independent. That isn't to say the big brands can't and don't produce quality. It is only to say big, anonymous factories hardly feel like the path of the Velominati.
In the end, we settled on a tiny, private company called Kallisto based out of Poland. I love the story. The owner is an ex-Pro racer who's dad was a bespoke kit tailor for Pros around Europe. (As it turns out, the Pros don't wear off-the-shelf kit just like James Bond doesn't wear off-the-rack suits.) After retiring from racing, he apprenticed with his dad before he took over the business. Fast-forward a few more years and he decided to break out into custom kit design. The first time we talked, he filled my ears with the nuances of different weight lycra for bib panels to balance durability, weight, and the modern notions of supporting the muscles and promoting blood flow. This chamois or that chamois, jersey stretch versus its wicking properties – he went on and on. This is a man who not only knows his trade; he loves it. He lives it. He breathes it.
Kallisto sources all their materials directly from Italy and has a small factory where they make everything in-house. And custom should be custom. We chose the lycra, the fabric, the cut of the jersey, the placement of the seams – everything is customized and selected by Velominati. And the result is astounding. We've been testing the kit and refining the design since January and I've found all my other kit starting to collect dust in the drawers. They even took nine days of eating cobblestones on Keepers Tour without so much as a wimper. Well, maybe they did wimper, but if it did, I couldn't hear its whimpering over my own.
With that, the next V-Kit order will close at midnight on May 10, with delivery expected early to mid June.
Thanks for supporting Velominati. Vive La Vie Velominatus.