Project Zero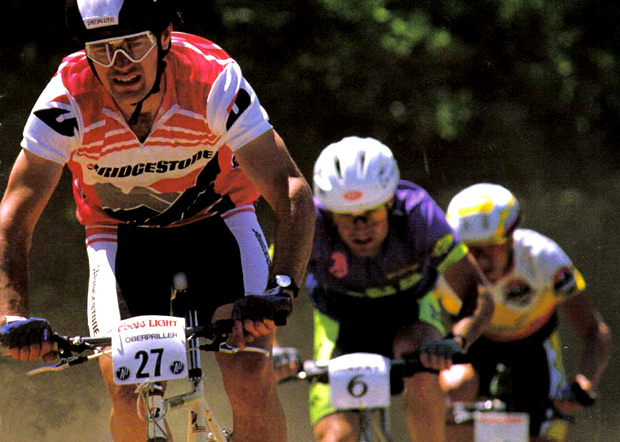 When I was growing up, my family and I did a lot of mountain biking.  It was really just a matter of training; we were nordic ski racers and the heart-rate patterns in both sports seemed to be more similar than between road biking and skiing and the intense efforts to ride up steep, technical hills was better interval training than anything you can do manually.  We even had our own, private mountain bike trail – probably the most technically challenging route I've ever ridden: an old, abandoned motocross trail in Norther Minnesota.  The hills were steep, the terrain technical, and the insect life thick enough to keep out everyone with any sense. It doesn't sound like much, but it was crazy.
I rode an old Schwinn which empirical evidence indicates was made out of sand-filled tubes.  My dad and my brother were riding Cannonwhales, and I can't remember what my mom and sister were on.  It was all first-generation mountain bike gear: weighed like a tank, and was designed for riding ATB trails and dirt roads – not the single-track hell were were riding.  Then, one fateful day, Spankles came to ride our crazy trails.  He came aboard a Bridgestone MB-2.
I have always preferred riding on the road.  The responsiveness of the bike, the rhythm; the feeling of spinning a gear at just the right cadence that seems to put you, the bike, and the road surface into a sympathetic vibration is unmatched in any other sport.  Our mountain bikes were big, clunky, and stable at the expense of being responsive.  Not the MB-2.
I got on his bike and rode it about 200 meters before I found myself thinking, "This feels like a road bike."  The Bridgestone was quick, light, responsive, and your position on the bike was like a road bike – you were low, stretched out, and in control of the machine.  When I told him it felt like a road bike, he answered, "That's the point."  I was hooked.
During a time when bike manufacturers where were starting to experiment with rear suspension in order to smooth out the inevitable bumps that come along with riding off-road, Bridgestone was taking a very different approach.  Recognizing that there is no suspension more effective than the human body, they decided to focus on building small, responsive, and light bikes that could bounce beneath the cyclist with the rider proving the suspension rather than the bike.
Intrigued, my dad snapped up an MB-1, which was the top of the line Bridgestone at the time.  He fell in love, and so did I – from a distance.  I watched from my sand-filled Schwinn as he learned to ride his MB-1 over the most technical climbs that none of us had managed to climb before.  The next year, Bridgestone produced an MB-0 (or MB-Zip, as they called it) and my dad had to have one.  They were only produced for two years, but they were the lightest, quickest mountain bike available for many years (the Zip weighed 19 pounds back when road bikes hardly weighed so much.)  Bridgestone only produced the MB-0 for two years, and went out of the bike-building business shortly thereafter.
In a strange twist of fate I happened by a bike shop that had only recently opened.  As I passed by the shop window, I noticed none other than an MB-0 hanging in the window.  Upon inquiry, it turned out that it was my size.  And completely, 100% stock.  And, with that, let Project Zero begin.  I will make no irreversible changes, but this bike will become my primary mountain bike and I am embarking on a quest to make this thing rule.  Stay tuned for updates.  Oh, and the serial number is "1111".  How cools is that?  They only made this bike for two years and made only 1000 per year.  This is the 111th bike built in the second year.
Trivia: who is the man in that photo above?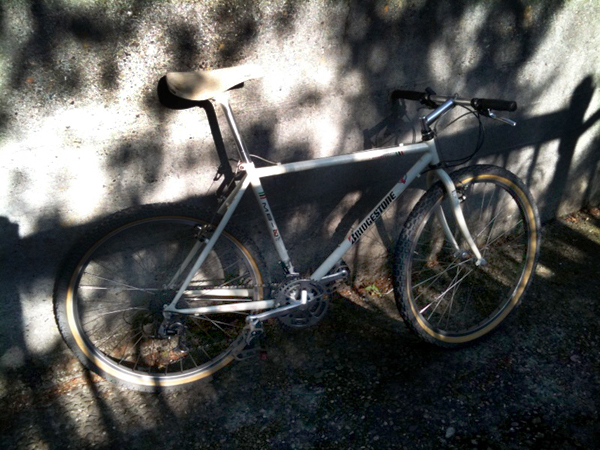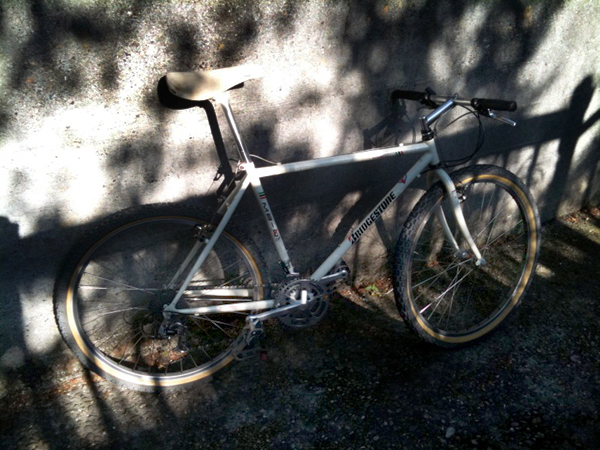 Read more about the MB-0: Pedal! Damint! and Another Insepid Dot Com
And, the creme-de-la-creme, the 1991 Bridgestone Product Catalog (click the pictures to browse through to relive my 8th-grade summer):
Boy, that catalog really brings me back.  I loved the humor and the technical tips such as Gene's climbing technique and Michael's descending techniques.  Dig those crazy Scott Drop-Ins!  And, for the record, I totally had a crush on Karen, the Cycling Marine Biologist.