Tricky Dickie: Shopping in the Five and Dime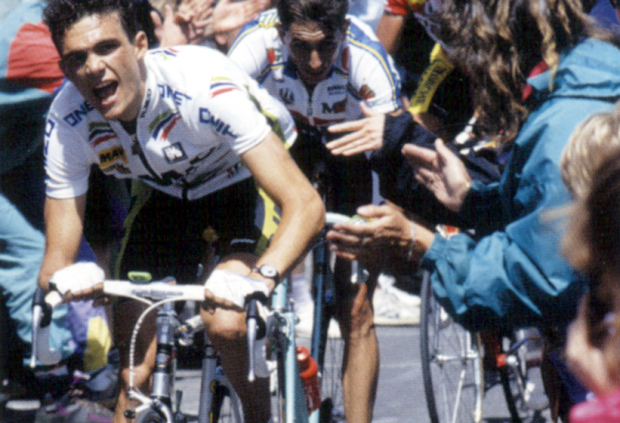 We recently trod into territory we simultaneously avoid and willingly dive headlong into: doping and the intrinsic hypocrisy therein. While on the subject I figured the timing could never be worse to talk about one of my favorite riders: Tricky Dickie, the ponciest lad in the peloton.
On the bike, he was a simple man; there was never anything sophisticated or elegant about his style.  During his thirteen years as a professional, he looked comfortable on a bike for about 17 minutes, and 14 of those minutes occurred off-camera. Like his contemporary and fellow King of the Mountains Claudio Chiappucci, he was a rider who stomped on the pedals like they were his mortal enemy, as if executing even a single Magnificent Stroke would somehow rid him of his powers and render him ineffective in his craft.
Despite a lifelong commitment to pedaling squares, he traded in a single currency, the Five and Dime: Laying down loads of Rule #5 with a wholesale commitment to Rule #10. Seven-times winner of the Dotty Jumper, he had this to say of riding in the mountains:
You have to be able to move sur la plaque [use the big ring] as soon as you're at the top. I generally change gear 300m from the top. On a gentle climb, I sprint with my hands on the bottom of the bars, or I accelerate with my hands on the brake levers. I climb cols by feel and I don't look at my heart meter.
I was in Holland in 1992 during the Tour, and was sitting in a bungalow in Hoenderloo watching the Tour on television.  It was classic; a stage in the mountains held in a torrential downpour, with a breakaway.  In the group was a rookie who, without looking good on the bike, somehow looked incredibly cool.  His RMO jersey was soaked through and his cap was perched atop his head in precisely the right way. He rode in a pair of yellow Carnac shoes, and pushed the pedals in LeMond's heels-down style, expressing with each stroke how hard he was working. I liked him immediately. Then he crossed the line – in tears – howling at the camera that he had Maillot Jaune.
Any rider who can lay down the Five and Dime like that and be man enough to cry like a schoolboy who misses his mama is all aces in my book.