A Day to Remember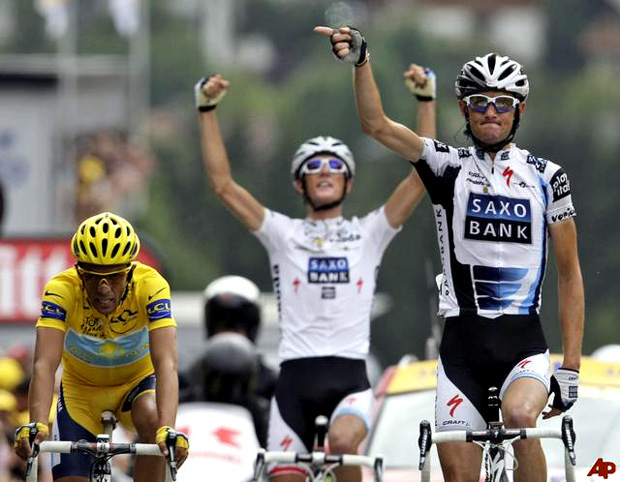 Today was perhaps one of the best days of bike racing of the season – brought on by my trusty favorite pair, the Schleck Brothers.  As promised by the organizers, the last week of the race is shaping up to be a nail-biter, despite two incredibly boring weeks of racing.
On paper at least, today was the most difficult stage of the tour.  They rode 5 big cols over 169.5 km, with over 4000 meters of cumulative elevation gain.  Thor Hushovd started the day by taking all the intermediate sprint points over the first few mountains to definitively shut up Mark Cavendish after he claimed Hushovd had to get him disqualified in order to have any chance of winning the Green Jersey.  Oops – sorry, Mark – looks like Thor learned to climb.  Couple tips for 2010, though.  First, you're faster, so just go in a straight line and you won't have to get DQ'd; you can try to win it fairly.  Second, if you do get DQ'd, don't piss off a guy who you know is a better climber than you.  Third, don't be such a cocky shit that you piss all your peers off.  Take responsibility for having screwed up and leave it at that.  See you next year, genius.
The GC fireworks started on the second-to-last climb when the Schleck Brothers decided to rip it up in honor of their injured super-star workhorse, Jens Voigt.  Contador didn't appear to have too much difficulty following Andy's moves, and Armstrong showed some impressive riding as he matched Frank's moves.  Finally, though, Frank solo'd up to Andy, Contador, and Kloden to form the dream escape.  The group steadily gained on the chasers until Contador decided to attack.  Contador's move lacked the punch of his earlier attacks, and the brothers easily bridged up to him.  In the meantime, however, they shed Kloden.  It was actually rather comical to watch as Contador looked behind in suprise, realizing that the only thing he managed to do by attacking was to isolate himself.
The stage finished with a brilliant win by Frank Schleck with a delighted Andy in third.  Contador didn't do any work in the move – quite rightly – except when he made his ill-fated attack, and I would have really liked to see him sit the sprint out and let the brothers cross the line together, but I'm still very happy to see the finish wrap up the way it did.
Awesome day!