Monsieur Mont Ventoux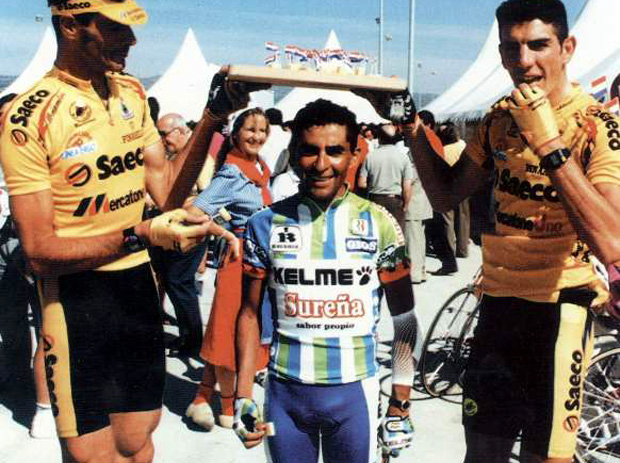 For those cyclists who might shop at the Big and Tall shop, we are a minority, we stand out in a pace line, we don't go up steep hills well but we all should worship at the altar of Eros Poli.
Eros Poli! When one is named John, Poli is already deserving of idolatry. A name like this only fans the flames of my italianophile fever… Eros Poli, it's fantastic.
The stage started in Montpelier. It was hot and humid. When a 6'4″ domestique solos off the front of the field early in the Mont Ventoux stage in the 1994 Tour, no one except perhaps Eros's dear mother had any faith in the lad. The cocky climbers must have shaken their heads and smiled. "We will be seeing him soon enough". He was no climber, too big, huge, a giant among the pros. This was Marco Pantani's day.
But Eros Poli was a gold medalist in the team time trial, back when the four man team trial was an Olympic road event. The man had a serious engine and he put it to work before the road reached the climb. The peloton was unconcerned and gave him much line as Poli spun his lead up to over 20 minutes by the time he hit the foot of the mountain. The TV announcers were convinced he would be caught soon into the climb and kept up constant natter pronouncing him a hopeless dreamer, not a rider for the big climbs. This was a bold move, I can't think of such an audacious scheme by any rider in recent tour history.
A ride only becomes audacious if and when the rider pulls it off, otherwise it's just another attempt to get some TV coverage for your sponsors. Mont Ventoux has an average gradient of 7.8% and is over 20km long and Poli defied all by only losing a minute per kilometer to the likes of a chasing Pantani. With his Briko sunglasses pushed up on his head as he was sweating buckets, his stylishly modified cotton cap hanging on the bars; he suffered as only a big man on a steep, long climb riding solo ahead of the pack could suffer.
Eros was usually a man to lead the grupetto aka "the laughing pack", and since this was before everyone had a radio earpiece jammed in their heads, the men off the back may not have known one of their own was teaching the climbers a mighty lesson. After crossing the summit Eros cashed in his weight advantage to descend away from all chasing climbers to roll across the finish, alone and in tears, 40km later in Carpentras.
He became my cycling god that day.
[dmalbum path="/velominati.com/content/Photo Galleries/[email protected]/poli/"/]