Baby, It's Cold (and Wet) Outside. Lets Race Some Bikes.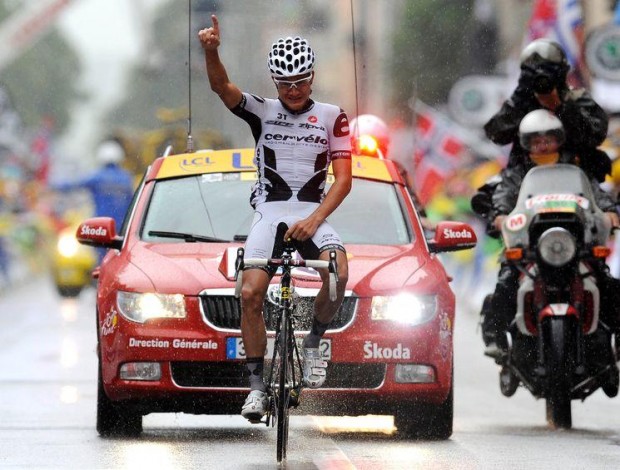 As an objective, rational, and calculating cycling fan, I've never been able to get excited about any rider on the now-defunct Gerolsteiner team. This is mostly because they committed the unforgivable crime of employing teamwide, systematic ugly kit selection. Those guys looked so unbelievably ugly in those nasty, turquoise unitards that several of my television sets suffered catastrophic failures while showing pictures of them. Bernard Kohl is the only rider in history to have made a fashion upgrade by swapping his blue turdakit for cycling's second biggest crime against humanity, the head-to-toe polkadot suit worn by the rider leading the Tour's doping-I-mean-climbing competition.
I am increasingly under the impression that Heinrich Haussler was a casualty of Ugly Kit and that I've unfairly held him in contempt since he turned pro for Gerolsteiner in 2005.
One of the great things about cycling is the fact that it happens outside. Even if you're not a cyclist, you've probably noticed that weather is not always dry, sunny, and warm. Truth be told, it occasionally will even get downright cold and wet out there, an effect scientists refer to as "shitty weather". These circumstances adversely effect almost every factor that keeps a cyclist and bicycle in precarious harmony: friction between the road and tires, properly warmed joints and general rider comfort, the rider's ability to see the road, keeping dirt and grit out of the drivetrain, and friction between brake pads and rims (which is helpful for stopping) are all affected.
Despite this, when it gets cold and rainy, there is a certain class of rider (mostly Belgian) who get on their bike and say to themselves, "Ah. Lets race some bikes."
Heinrich Haussler has today vindicated himself of the harsh judgment I've dished out to him. On top of racing a Cervelo and riding in the peleton's best-looking kit, he got on his bike today and said, "It's cold and pissing rain and there are about five climbs on the route. I'm going to push on the pedals today." And with that, he joined an elite group of riders for whom I cheer and hold to unrealistic expectations: Jens Voigt, Frank and Andy Schleck (although Frank more than Andy), Thor Hushovd, and Tom Boonen.
Update: Video highlights after the jump