Flahute: The Hardest of the Hardmen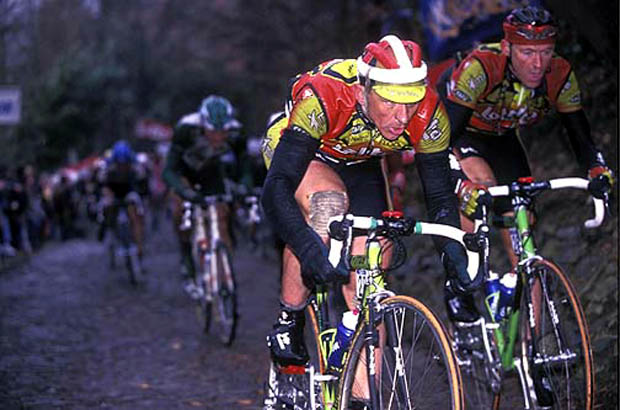 Few images inspire the Keepers more than those of hardmen grinding away large chainrings on roads of antiquity built as cattle paths in northern Europe. Throw in some grey skies, hordes of beer soaked Belgians lining the way, windmills in the background, and of course, Flandrian Mud, and the first word that comes to mind is most likely "hardman".  Go ahead, try some free-association, Rorschach style.  Flash a picture of Boonen, Hushovd, or even Freire in front of a Velominatus and ask what the first word that comes to their mind is.  I'd be willing to bet my last cog it's "hardman".
Hardman status is not easy to attain and certainly begets cred.  But the Rules don't really stipulate how one becomes known as a hardman.  It's generally agreed upon that A) One's palmares must include some success in the spring classics.  But this doesn't necessarily include La Primavera as it's not north enough and there are no cobbles.  B)  It certainly helps if one's name is of a northern European dialect and includes double "o's", a "de" or "van" in the middle, or three consonants strung together somewhere.  But that's not hard and fast either as there certainly have been southern Europeans who've achieved hardman status.  And C) it seems there must be a certain level of independence.  One does not become a hardman by sucking a domestique's wheel for 150K only to win in a 15k solo attack up a climb.  Hardmen ride out front, take chances, are aggressive, and drive the pace. But then again, sucking the stream of a lead-out train to win a sprint seems to at least contribute to hardman status.
There is a type of hardman though that is unequivocal.  The Flahute.  The term Flahute is thought to be coined by French journalists after WWII who used it endearingly to describe their Belgian neighbors, the cyclists who rode the legs off their rivals over the pave and through cold, rainy conditions.  These were people that had just had their country torn apart by war.  People who gave themselves one choice, pick beets all day or become a cyclist.   Either of which led to a career of suffering. One of which may have also led to praise by his countrymen and perhaps even glory.  These are riders, it has been said, that consider le Tour to be a series of long training rides.  The exception that proves this rule is, of course, Eddy Merckx.  Roger De Vlaeminck, Mr. Paris-Roubaix and a noted Flahute, defines them this way; "They're just those guys who know how to ride faster than anybody else over cobblestones and in the rain." Flahute has also been defined as the only guy who finishes a 200k race that 125 guys start. Franco Ballerino was one.  As was Johan Musseeuw.  In addition to the riders who have been catalogued here at Velominati I would like to add Andrei Tchmil.  Let's take a look at why Tchmil is a Flahute.  He rode le Tour five times. He finished it twice having never won a stage.  But he throve in cobbled classics.  His win in the 1994 Paris-Roubax is legendary.  He rode away from Ballerini and Baldato in the final kilometers of that year's mudfest in commanding style after doing battle earlier with Musseeuw.  Only 48 riders finished that year. It was George Hincapie's first P-R.  He did not finish. Tchmil knew how to suffer.
[youtube]http://www.youtube.com/watch?v=Ok5DktZVohk[/youtube]
The thing of it is it's much easier to come up with a list of riders who aren't Flahute.  And that's how it should be.  Of the current generation of riders one stands out as having Flahute potential, Tommeke. Other than that, who is there?  Yes, we currently have hardmen but Flahute?  I wonder.  As this year's spring race calendar continues to unfold perhaps we'll see.
One could fire up a blog and title it Flahuteminati.  The problem would be the scant number of riders to write about.  But even though the tales would be small in number, they would be worth repeating and reading about over and over again.