Grillin' Up a T-Bone on the Fourth of July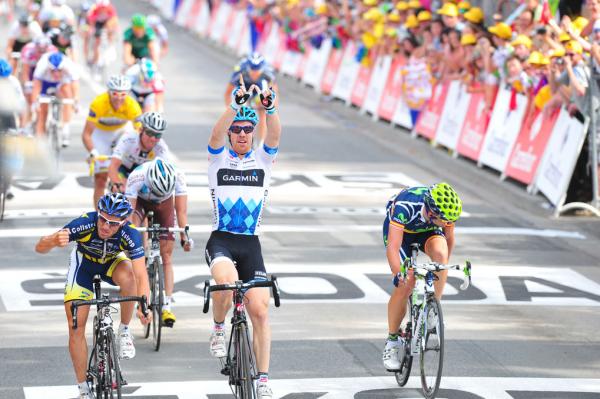 In the US on the Fourth of July, we drink shit beer and grill loads of meat to celebrate our declaration of Independence from England. I think that's supposed to be ironic, us being lazy and getting fat on this day, because my understanding of the Delcaration of Independence is that it said something to the effect of, "You guys are lazy and fat and suck. And we hate tea and taxes. That's two more reasons than we need to be rid of you." Personally, I like both the English and tea, but nobody asked me so here we are.
I've never made it a secret that I'm not a fan of Vaughters' "sit in" tactics and, by association have soured on Gramin-Cervelo in general this year. But I have to admit, I'm coming back around to the boys after their stellar efforts in the opening stages of the Tour. In contrast to their Rule #67-violating standard-operating procedure, today they wrested control of the bunch away from a dominating HTC-Highroad train, chucked a Maillot-Juane into a leadout so strong it looked more like a breakaway than a bunch sprint, and delivered T-Bone to the line first on the Fourth of July.
I haven't done the research to back this up, partly because I'm certain someone will correct me if I'm wrong, but I believe this represents the first American Tour stage win on this particular date. To top it off, we had an emotional win dedicated to Farrar's fallen friend, Wouter Weylandt.
America, fuck yeah.