Il Pirata's 1998 Bianchi: The Elusive Stallion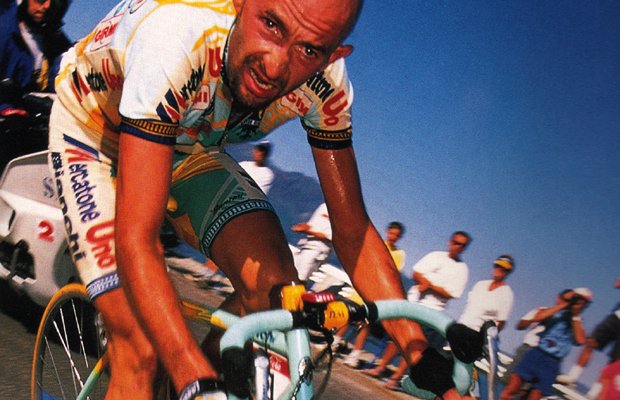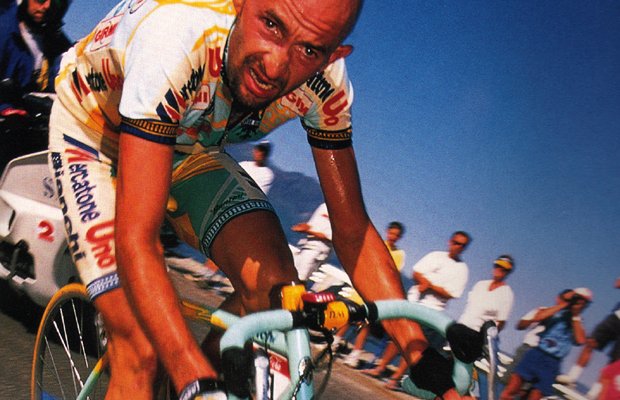 In 1998, Marco Pantani staged one of the most prestigious coups of cycling by winning the Giro-Tour double. He made this run aboard what I believe to be the most beautiful bike in history, a Celeste steed with a yellow section of frame starting at the seat collar and spreading out down the tops of the seatstays, top tube, and seat tube.
Very little is actually known about this bike; it was a one-off creation made especially for Il Pirata by the Bianchi Reparto Corse division which makes all the top-end bikes for the company.  Some say the frame is aluminum, others claim it was boron. The frame undeniably used a compact geometry (this is commonplace now, but it was unique in '98), but whether the top tube sloped up or down seems to be a point of contention: did the top but slope up to give a longer head tube to bring his bars up to accommodate his unique in-the-drops climbing style or was the top tube sloped down towards the seat tube in order to reduce the weight of the frame and increase the stiffness of the rear triangle?
The bike has captured my imagination for a long time. I love the way the saddle and tires match the portion of the frame where they intersect in what I call the "Yellow Cluster"; the vision of Pantani climbing out of the saddle on the Col du Galibier with those flashes of yellow swaying back and forth as he danced up the mountain remains one of the coolest images of cycling. I studied his bike extensively when I was building my Bianchi XL EV2 and I mimicked it's setup, choosing a yellow Flite saddle and solid yellow tires. To this day I love the looks of that bike, and Pantani's setup has even influenced one or two of The Rules.
I've searched the net over for information on his bike, hoping that at some point someone would find and catalog it for the world. Occasionally, there will be an article posted somewhere that covers the bike, but each of these has ended up a disappointment as upon closer inspection, it is revealed that the bike is not in fact his tour-winning bike.
I did, however, find one article on Campy Only which appears to showcase the real deal. It comes from an account by a fan at a post-tour criterium in 1998 where Pantani made an appearance:
Here you have the pictures of Pantani's bike. Note that he is using tubulars on his Electron wheels, even for this small race. He seems to love this bike. In the Giro he used the normal team bike on the flat stages, but since the mountains he has not been apart from this ultralight "hillclimber" (except for time trials). I think the weight is about 7 kilos, but is is of course a very small bike.

The use of a downtube lever and the modified Ergo lever is a funny detail. It is very unusual these days to see homemade stuff like this on a pro's bike, and he even won the two major tours on it–it's a classic bike, this one!
[dmalbum path="/velominati.com/content/Photo Galleries/[email protected]/Pantani Bike/"/]
Recently on CyclingNews.com, they did a Retro Bike review of Pantani's 1998 ride, reportedly stored at the Bianchi museum. I was thrilled and dove into the photos, looking for answers to questions I probably didn't know I had. Unfortunately, closer inspection revealed a host of problems with the bike; I am sad to report that this is not in fact Pantani's bike, and in all likelihood did not even exist in 1998. It appears to be nothing more than the Bianchi team replica frame clumsily loaded with a 1999 Campy Record 9-speed groupo. The items that give this fact away are: non-compact geometry, carbon Ergo levers, no front down tube shifter (and accompanying left-side Ergo lever with guts removed), black and yellow tires (instead of his solid yellow tubulars), and silver Time mag pedals (he rode red ones in 1999). This could possibly be a late-season racer or a 1999 trainer, but in any case, it is not his 1998 Giro-Tour winning magical steed. Since it appears his real bike eludes even the Bianchi museum, my only hope is that he kept it for himself and it resides somewhere in the Pantani estate.
[dmalbum path="/velominati.com/content/Photo Galleries/[email protected]/Pantani Replica/"/]