Inside the Tour: Battle for the Biggest Baby Award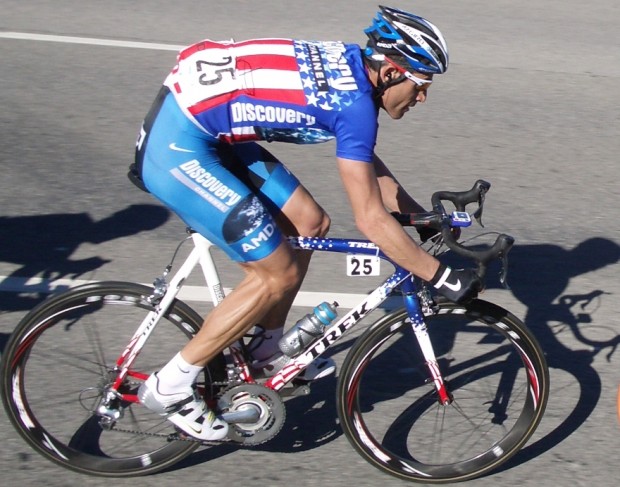 This Tour seems to have been dominated more by gossip than by racing, contributed to in no small part by a rotten route.  The press seems to have whipped up more interest in who is leading Astana or Saxo-Bank than in the race itself.  But some riders seem to love nothing more than complaining to anyone who will listen, especially if that person is holding a microphone or a voice recorder.
The battle for the Biggest Whiner in the 2009 Tour de France is going to go all the way to Paris, running down to the wire, just like the General Classification.  The competition essentially runs between George Hincapie, Cadel Evans, and Carlos Sastre:
George Hincapie: "Incredibly disappointed" after missing out on Yellow by 5 seconds on stage 14, due to factors outside his control – namely, negative tactics by his friends at Astana who controlled the gap to his breakaway.  "I am just extremely disappointed," Hincapie told Versus. "I don't know why Astana was riding behind; it's highly insulting to me."  Am I the only person who noticed that after Ivanov went, Hincapie looked to the others in the breakaway to chase?  Time and again, over the course of the last 10km, he had the opportunity to take control of the breakaway, forget about his own chances of winning the stage, and ride hard and steady in order to get to the line as quickly as possible.  The question of the day was where those 5 seconds were lost, and I have not heard anyone say what it really came down to: he lost the Yellow Jersey because he didn't take control of the breakaway and ride hard to the finish the way a rider who is riding for yellow should have.  Lance Armstrong sayid, "Hincapie deserves yellow."  I say that the yellow jersey is earned, not deserved.  George Hincapie is just another name in a long list of talented individuals who fail to take control of race situations at the critical moment in order to make their own success, always looking to others and external circumstances to explain their failures.  Speaking of which…
Cadel Evans: "I think I defended well for a guy who was having a horrible day."  As Brett correctly pointed out, poor old Cadel seems to be damned if he does and damned if he doesn't, but the fact remains that he rarely pulls together the goods when it really matters, a fate that doesn't seem to befall the true champions.  I don't know why he had a bad day, but his attacks over the previous days where his chances of gaining time were minimal at best probably didn't help.  I'm glad Evans is attacking more, but I'd love to see him apply some tactical sense; I always feel like he's attacking more to shut up his critics and less to win races.  In any case, until he stops complaining and blaming others, I don't see him notching up the win in any significant race.
Carlos Sastre: "Do you think that is respectful?  I have more respect from the spectators than all of you…" he spat at his press conference today.  It all comes down to this: respect is something you earn, not deserve (just like the Maillot Jaune).  And Sastre has been going on about not receiving what he perceives as the correct amount of respect for his Tour win last year.  Furthermore, he is complaining this this year's Tour is boring.  Hello?  I agree wholeheartedly but I'm a spectator.  Short of flying to France and sabotaging the race again, I'm not quite sure what I can do to make the race more interesting.  As a rider in the race – complaining that riders are not attacking – maybe he can do something about it?  Like attack?  I'm trying to brainstorm here and I'm really just thowing that out there, but I'm probably wrong.  That probably wouldn't work.
I think Cartman says it best:
[audio:http://velominati.com/wp-resources/audio/602_stopyerbitchin.mp3]