Jan Ullrich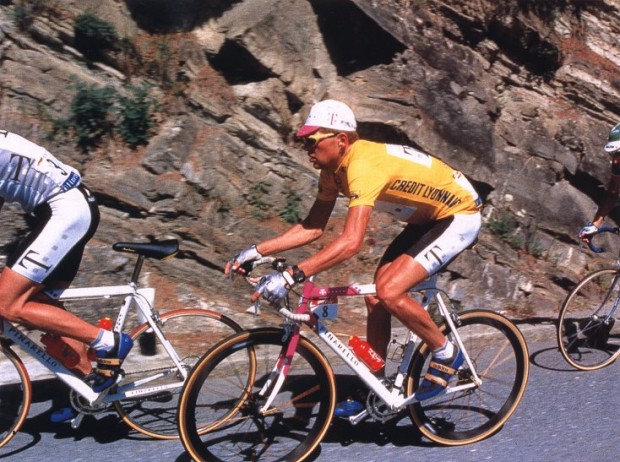 I'm going to come out and say it: Jan Ullrich is my favorite rider, ever.  He had it all: class, strength, talent. On top of all that, he was also tall and he was big.  He was  Frank's Perfect  Storm of cycling.
I am not a fan of doping in sports, especially in cycling.  At the same time, I am a realist.  Cycling is the most difficult sport in the world, and the Grand Tours (Tour de France, the Giro, and the Vuelta) are the most difficult races in cycling.  I honestly believe that Anquetil was correct to say, "Do you really believe we can do this on bread and water?"  These cyclists race at 30-40 kmph over mountainous roads all across France, Italy, and Spain in an endurance sport where strength-to-weight-by-endurance ratio is the most important factor to success.
In the 50's, 60's, 70's, and 80's, the drugs available may have enhanced performance, but their benefit was fleeting.  Drugs in those days enhanced one's ability to enhance muscle growth over short periods of time (steroids) or increase one's ability to feel strong or energetic in the short-term (amphetamines), but served no long-term effects (other than the inability to have children).  Doping in those days – although widespread – was a daily practice to win a race and not a means-to-an-end in a cycling career.  Steroids and amphetamines led riders to overload their muscles and spend the majority of their careers fighting injury of overloaded joints and muscles.  In those days of cycling, it was possible to win and not take drugs.   But I don't believe many did.  Charly Mottet was considered to be the cleanest rider of his era – with the possible exception of Greg LeMond – and even he was known to take drugs that enhanced recovery, if not performance.  After all, the ability to win day after day is almost as important as being able to recover, day after day.  It is important to note that Charley Motet never won the Tour de France – although he won several stages and is, in my mind, one of the quintessential riders of the 80's and 90's.
Greg LeMond  – before he became a doughebag – alluded that as his career wore on, he was increasingly amazed at how fast the bunch was racing.  In '90, he won the Tour.  In "91, he was 7th or so, nailed down by a young Spaniard.  No other rider who did well in the 80's was even on the register in '91.   I don't believe he finished the '92 Tour, but maybe it was the '93 Tour he didn't finish.  At some point – it is reported- he looked at Charley Motet after the end of a particularly fast stage of the Tour and recognized a similar look of exasperation on his face.  Both riders could not believe how fast that Tour de France was racing.  It was an end of an era, for better or worse.
Things may have changed today, in 2009.  But I am certain that from 1995 until 2006 or 2007, EPO and blood doping were in wide-spread use, just like drinking milk and orange juice.  Tests against these drugs were weak, and the governing bodies in cycling were not very interested in catching people who used them.  As a realist, I can say confidently that the Tours de France fought by the champions of 1990 until 2006 or '07 were fought on even turf.  Even the Tours after those years were fought  fairly – and likely on drugs – but there is a clear shift in direction, at least from outside the sport – to move towards clean cycling, and the sport seems to be moving along with that shift.  Races are less formulaic, less predictable.  More races are determined by tactics and strength than by a dominating team or rider.   And ultimately, that's what sells cycling.  No once cares about results.  No one ever has.  People care about competition.  And competition, by definition, means "one against the other".  It has no implication of results or the use or absence of drugs.
Sport has often been mistaken for the act of "winning" when, in fact, sport is about competition.  If every athlete is on a level playing field, is does not matter what they are taking – as long as they are taking the same stuff.  And lets face it, cyclist and anyone in their employ, are not at the cutting-edge of medicine.  All the teams have access to the same undetectable means of enhancing their performance.  So, what we see is still a race between the best cyclists in the world, even if we can't follow behind and ride that same race and realistically compare our own performance to the performance of the Pro's.
In the mid-90s, when I was a youngster racing Nordic skis at the top of my class, I was maybe 3-5% behind the Pros.  The Pro's were just out of reach, but unattainable.  These days, for drug-free youths,  the gap is much larger than what training can bridge, and that impacts the those who are struggling to become pros in whatever sport they aim to succeed in.  And that, to me, is the real shame in doping.  But this is not the fault of the athletes. These men and women are human beings responding to the demands of a sport and it's commercial value.  When everyone is taking the same drugs, competition still comes down to those who are willing to sacrifice and suffer the most.  It is not a question of categorizing those who use drugs to compete as dopers.
And with that, I want to talk about my favorite rider ever, Jan Ullrich. The winner of the '97 Tour,he remains my favorite bike racer.  He may have been less devoted than Lance Armstrong (who wasn't?), but he was an emotional racer, one who made  you feel like cycling was a sport, not science.  I am not sure who it was – maybe Christain Van de Velde – but a cyclist on the USPS team in '01 said something to this effect of Ullrich during La Circuit La Sarthe: " The pace amps up and riders are getting shelled out the back, and Ullrich just sits there in his usual style, looking around with a look that says, 'What?  Are we riding hard already?'"
It reminds me of a teammate of my father's in the Dutch Crew in the 60's who went on the win the gold medal in the World Championships.  He won by several lengths, and afterward, he remarked to the press very plainly, "It seems to me that in an important race like this, you would pull on the oars a bit harder."  For me, that sums up what Ullrich was like as a racer.  An exceptional athlete who simply didn't understand that other cyclists could not keep up when he pushed on the pedals.  It always seemed like he was saying, "Push on these little platforms under your feet!  It makes you go!"  Ullrich was most likely doped up to the gills, like every other cyclist who was successful between 1990 and 2009, but he was fighting on a level playing field, and it breaks my heart to see him villianized like Pantani was in 1999 – for being part of a culture that existed durin an era.
Here is a great example of Ullrich racing in the '97 Tour.  Part one shows him beginning to take leadership in the race before his suprise that the othere's aren't keeping up when he starts to push on the pedals:
[youtube]http://www.youtube.com/watch?v=CCgKMKm_d3Q&feature=related[/youtube]
Part two shows the rest of his incredible performance as the race wore on:
[youtube]http://www.youtube.com/watch?v=kquStp9JZJE[/youtube]
That said, the political tide has turned and the call has been made for clean cycling, and I, for one, am in complete support of it.  Lets get rid of  doping and throw everyone who cheats out of the sport, for good.  But when I say that, I mean everyone who cheaats from now on.  Don't take samples from 1992 or 1998 or 1999 or 2001 or 2003 or 2004 or 2006.  Draw a line and take samples from riders from today, usings the standards of today. Let bygones be bygones, and let the sport of cycling continue to captivate the public for the reason it alwaya has:  because it is the most amazing sport in the world