Ride Like a Girl: Marianne Vos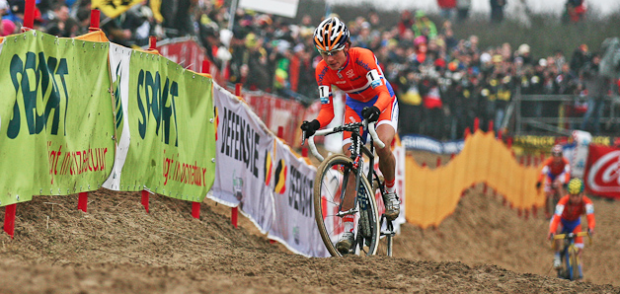 While it took seven Belgians to dominate the Men's Cyclocross World Championship race on Sunday, it only took a single Dutchwoman to dominate the women's race. That's seven times more dominanter, if my math is correct – which it always is.
Cyclocross fascinates me, mostly because it is completely insane. But I admit: I like the idea of combining Cycling and miniature golf. Put some canti's on your road bike, take to the mud and woods, add some water hazards, sand traps, man-made climbs and jumps, and now you've got a sport for people who hate the way their faces look.
Marianne Vos took her fifth World 'Cross Championship (a record) to further crowd here palmares with rainbow bands. She's been World Champion in every discipline involving drop bars, many of them multiple times. She's also won La Fleche Wallone more times than I can count (I can only count to three), National road and time trial championships, and the Giro d'Italia Femminile. She was even World Champion in Mountain Biking as a Junior. One could easily argue that "V"os is the best active cyclist in the world, bar none.
To that point, we don't pay close enough attention to Women's cycling. I'm as guilty as anyone; if I was going to pick the winner of a Women's race, I'd likely pick Vos or Cooke (if she's not broken, which she often is) or Teutenberg if the race is likely to end in a sprint, which I wouldn't be able to tell you without first doing some research. And that pretty much exhausts my knowledge in terms of naming riders, which is disgraceful. After all, if one is to understand the great mystery, one should study all its aspects. (Yes, I just quoted Darth Sidious.)
With the 'Cross season coming to a close, we're ramping up to start the 2012 Velominati Super Prestige and with it, we are dragging ourselves into paying attention to Women's Cycling: the 2012 competition will include women's races with the points amassed counting towards the overall title.
We are also making some coding changes to the backend system in order to fix some problems which means we're probably only introducing new problems without necessarily fixing the things that needed fixing in the first place.
We're also adding more races like the Strada Bianca, changing the scoring model, and eliminating certain things such as free DNF swaps. Stand by for further updates and keep a weather eye on the VSP Page for the updated schedule and rules.