The A.C. Enigma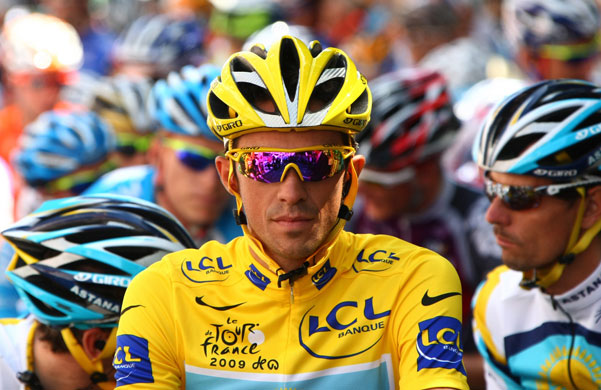 With the Spring Classics now turning to debates over motorized doping and the hardman's GT over, perhaps it's time to start turning our gaze toward the Tour de France. Sure, there's some sure-to-be good racing between now and then, but who cares? The TdF is next up on the VSP and we here at Velominati need to start conjuring up picks.
When Alberto Contador won the Vuelta in 2008 I was pretty excited for the guy.  I walked down the hall to a fellow cycling fan and colleague's office after reading the race report on VeloNews and asked if he'd heard.  "Dude, Contador just won the Vuelta!" I said.  "That's the past three consecutive Grand Tours he's entered and three consecutive wins, really impressive. (15 months to be accurate but who's counting)  Guys just don't do shit like that anymore!"  And now he's four for four.
But oh if things were that simple for me.  Pesky investigations, rumors and accusations stemming from Operation Puerto led to subsequent inquisitions of El Pistolero.  This eventually led to both the UCI and Spanish courts issuing statements that no legal action or sanctions would be pursued.  Later his new team, Astana, was banned from the Tour in 2008 because Veino was doped to the gills and swung through the Jiffy Lube for a 20 minute oil change the year before.  And then the whole media-fueled shitstorm started with that guy from Texas joining Astana.  Blech!  Trying to ignore the A.C. – L.A. drama of last year's Tour was probably about as difficult as riding the Tour itself.  If anyone managed to get through the Tour without hearing about that B.S. they deserve an honorary Maillot Jaune and a kiss from two podium girls.
Throughout all this, perhaps even in spite of all this, A.C. continued to win races.  Okay so he didn't make the podium at Paris-Nice last year, a race he won in 2007 and again this year.  The coverage would make one think that a 4th place finish in the Race to the Sun was disgraceful and that he'd lost his touch.  He bonked and bonked hard on the sixth stage.  But with wins at Volta a Algarve, Vuelta a Pais Vasco, a podium finish at the Dauphine, and becoming the Spanish National TT champion, A.C. was proving himself to be the best all-arounder in the peloton.
So what are the impressions we get of Contador?  Bruyneel has tossed out mixed messages.  On the one hand he's the most explosive and gifted climber he's ever seen.  On the other he's some type of prima donna who rides for himself.  I would too after having to buy my own TT wheels and proving myself to be the strongest rider in the peloton only to be treated like a neo-pro.  Of course don't even bother asking a Livestronger about Alberto.  Anyone who get's in the way of another coronation for The Boss (read COTHO) has got to be arrogant, selfish, and just plain mean.  Okay, so Contador's pistol shot salute is sort of lame and contrived but so what?  It's a hell of lot better than playing telephone.  And he's certainly not the most entertaining guy in interviews.  But I haven't seen anything that makes him out to be anything other than pragmatic and perhaps even introspective.   He actually seems kind of chill.
In a recent interview in Cycle Sport America, David Millar had a few things to say about Contador (of course, Millar has a few things to say about a lot) . The gist was that Alberto went to war against Johan and Lance last year both in the press and on the road.  He won on both fronts.  He also spoke of the respect A.C. is garnering in the peloton, his strength on the bike, and the perseverance he's maintained through all this.  On that classic bonk and subsequent stage in 2009's P-N, he had this to say:
When you watch a race, you want to believe riders can stay away in a break.  That's what's exciting. It does still happen, like with Contador in the last stage of Paris-Nice (2009).  He'd been humiliated the day before.  He got the hunger knock and blew his nuts off.  Lost the jersey and was lying third or fourth.  Tragedy.  I said, 'Watch Alberto go tomorrow.  First mountain.' Nobody believed me. I said, 'He will, he will, it's Alberto.'  First Mountain, he went, from the bottom.  That's old school.  His team didn't set him up, he just went.  There were still 100k to go.  He attacked the whole peloton and he was still away at the end.
We saw this on the much bigger stage of last year's Tour as well.  After getting caught out of a decisive split in stage three the L.A. show was supposedly on.  If you believed 1/3 of the guys on Versus and most everyone else you would've thought El Pistolero was now second fiddle.  Lance's smart riding aside, THIS WAS ONLY STAGE THREE PEOPLE!   Enter the Arcalis.  A.C. took off to the consternation of the entire Astana team and  1/3 of the guys calling the race on Versus and turned a 20 second deficit into a 2 second lead over his soon-to-be-former teammate.   He was letting it be known that he was the strongest rider on the Astana team and the whine fest was on.
So what can we say more objectively about Contador?  Well, his light-as-a-feather climbing style has been compared to Charly Gaul and Marco Pantani.  Suffice it to say, there's not another rider in the peloton who can really compete, day in, day out, with Alberto in the mountains.  He's proven he can rip a TT course as well.  His performance in last year's final ITT at the Tour was decisive.  Maybe he's not the greatest at reading a race or making it into all the splits but I'm afraid to say that those are dying skills.  With race radios and directors barking orders into a headset non-stop, what rider really needs to think for himself?   And as far as needing a strong team to win this year, let's not forget last year.  I'm not entirely convinced he needs a squad of super-domestiques to pull him through the Tour.  Maybe just a few solid riders will do.
When A.C. won the Vuelta in '08 and pulled off the virtual Grand Tour trifecta I was a fan.  Then, for reasons I don't fully understand, I thought I didn't like him.  Then I was confused about why I was trying not to like El Pistolero.  I really still don't know what to think of the guy. I guess I'm indifferent towards him. Regardless of what I or any of you think, the promise that he'll continue to ride with dominance on the climbs and strength in the TT is going to shape the Tour this year .  This time, it'd be nice if there were a few guys who could keep up.   It's not his fault he wins races, it's everyone else's.  Trying to beat Alberto and win the GC is what's going to make this year's Tour exciting, not a comeback, not a team leadership struggle, and certainly not a cat fight in the media.