Thomas Voeckler, Je m'excuse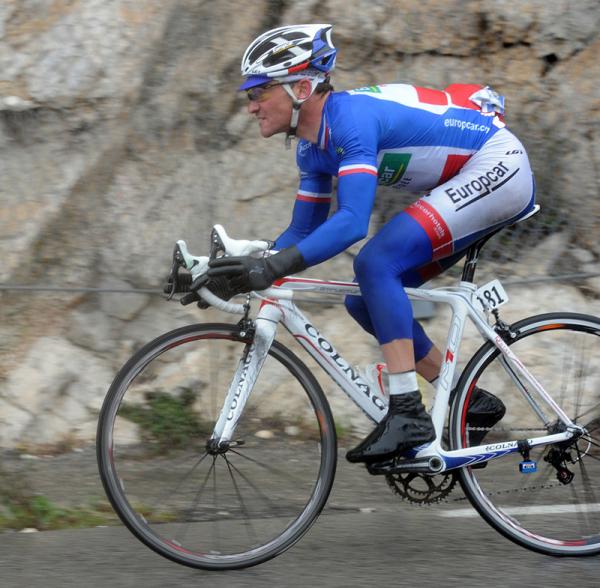 When you're wrong, you're wrong. I've whined about Thomas Voeckler on this site for years. After his yellow jersey escapade in the TdF many years ago he became the new Richard Virenque, the new golden boy of French cycling. That was my first problem with Thomas as I never liked RV, let me rephrase, I always hated RV, though he tried to redeem himself with his winning escape at Paris-Tours at the end of his career, the damage was already done. Mostly it was his awful finish-line salute and his constant polka-dot jumper winnings. And for some reason, Voeckler's riding style rubbed me wrong; jersey open, bobbing out of the saddle, bike side to side. He was either at the back of the field or just off the front for the cameras. Harsh, yes, unjustified, yes, but there it was.
His old B-Box team was a group of opportunists; get in a break, get some tv publicity, maybe win the occasional race but they never rode as a team. Finally during last year's Tour de France they did. For unknown reasons they appeared on the front, en mass, as the race approached the mountains.  They proceeded to put a lot of riders in a "spot of bother". Both Voeckler and Pierrick Fedrigo won stages of that Tour and the French were finally doing themselves proud in their home tour. I do love the way Pierrick wins; a long break with other strong riders, no missed pulls, the peloton underestimates their speed, everyone in the break underestimates Pierrick's speed and he coolly outsprints them. That's the way it should be done.
While Fedrigo jumped ship to Francaise de Jeux, Voeckler hung with his teammates while a new sponsor, Europcar, was eventually found. Then somehow he started to win me over, wearing the French National Championship jersey, he started to ride like a real professional ass kicker. Maybe Europcar actually required their riders to get fit for the early season, something happened I can't explain. 2011, Tour de Haut Var overall victory, a stage in the Tour Méditerranéen and then Paris-Nice 2011, he won stage 4 out-sprinting his fellow breakaway riders (perhaps Fedrigo had taught him something over the years). It was the final wet cold stage in Nice that really sealed the deal. It's a hell of a stage; up the maritime alps, down to the Med, repeat and repeat. It's no Champs-Élysées TdF ride: a yellow jersey leader can, and has lost Paris-Nice on this final stage.
The Cote d'Azure can be an ugly spot in the off-season; it had been raining enough that the roads were not as slippery as what the racers had been crashing on the previous day but it rained all day, making the twisty descents back down to sea level a test of descending bravura. Voeckler joined an early break of 11 riders and slowly they all dropped off but three, and on the descent of the Col d'Eze towards the finish line in Nice he dropped them and soloed in. Everyone on the podium looked on the verge of hypothermia, Tony Martin proved his hardman status by surviving the end of the race without teammates and Thomas Voeckler joined that club too. Attack the pointy end of the peloton, go hard enough to wear down most of the break and drop the rest on the wet, windswept descent to the sea. That's a man. I sure would like to see some American win like that.
"I felt the bad weather was exhilarating", the French champion said. "It pushed me to take some risks. When we dropped Carrara, who I knew was fast in a sprint, I was afraid of Ulissi because he didn't wince at all and I didn't know if he's a good sprinter or not. I went on the front for the descent and I took more risks once Carrara was no longer on my wheel. I don't like to take risks at every race I do, but when there is the possibility of a win around the corner, it's worth it."
For those who like to fantasize about being off the front on a wet descent, here he is winning the final stage of Paris-Nice.
[youtube]http://www.youtube.com/watch?v=HX8SvOZSz9Y[/youtube]
Post Script: This post was written a while ago but fits in with the French accent of recent posts. Since Paris-Nice Thomas was seen showing his face in the front group in Flanders and  beat out Scarponi in a two-up sprint in a stage of the Giro Trentino.  TV went on to win Four Days of Dunkirk and very recently was off the front a lot in La Dauphine. In stage 7 he put on a descending display like I have not seen since Il Falco (Paolo Savoldelli…Frank remembers Il Falco) . Voeckler descends like a demon and I really admire riders who can get through a corner like he can. I'll add Cunego and Sagan to that group as the Tour de Swiss has just shown!