Reverence: Pro Minitool 11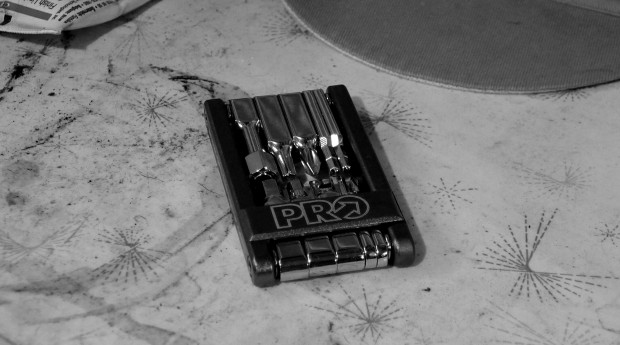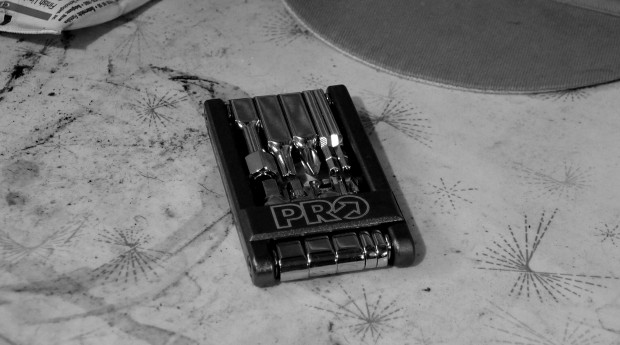 Update: On Monday, July 18th, this product has been demoted from Reverence status due to imprecise machining of the 3mm and 4mm allen wrenches.  Please see the updated Reverence article for it's worthy successor.
My apologies to anyone who has purchased this product based on this article. I am truly sorry.
Yours in Cycling,
Frank
— 
In our pursuit of La Vie Velominatus, we embark on a sacred quest – the pursuit of Rule Holism. The path is strewn with apparent contradiction; these contradictions are in fact but tests laid out for us – oportunities to discover The Way and strengthen our resolve. Little by little, we find our way along the path.
Those of us who amputate our saddlebags in compliance with Rule #29, are immediately faced with the unavoidable realization that our tools are unwieldy, heavy, and bulky.  Indeed, our reliance on the European Posterior Man Satchel has disconnected us from their contents and has bred complacency when it comes to tool selection. So long as the tool fits in the satchel, it goes in the satchel.  Spoke wrenches, multi-tool with superfluous attachments, chain tools, zip ties, scissors, even the odd Crescent wrench has been known to find its way into the tool kit. For a Velominatus' machine, which is kept in perfect working order at all times, these tools serve little function other than to make you climb less well for your weight.
Removing the dependence on a saddlebag demands that we become more discerning in the tools we carry with us.  The tools that are to reside in our pockets must be as carefully selected for their function as our machines and our kit itself. Simple. Reliable. Lightweight. These tools will be called into action rarely, but when called upon, it will be at a time of greatest need. They must not fail.
Over the years, the tools that accompany me on my rides have reduced in number and weight, and we have developed a bond during the many hours we have spent together – me perched on my saddle, them tucked neatly in my pockets. I started with two Park tools, one with huge range of hex keys, and a second with a fewer (redundant) number of keys, but including the vital Phillips and flat-head screwdrivers. Eventually, I started leaving the multitool without the screwdrivers in the toolbox, and taking my chances with too few hex tools. The risk felt too great, so I switched to other tools with varying degrees of success, but each failed in one aspect or another – corrosion, weight, poor construction – and was added to ever-increasing pile of discarded tools.
The problem was further complicated when I switched to the Campy 10sp Skeleton Brakes with Torx T25 bolts. I cursed a blue-streak when, as I was mounting my new brakes with great anticipation, I realized I was to be stopped dead in my tracks as I didn't have the proper Torx tool. I suppose, as Saul pointed out, I should be glad it was a standard Torx size and not some proprietary size that requires a $100 tool, but that knowledge did little to temper my rage. I purchased a set and returned home knowing full well that now my quest for the perfect minitool included a T25 to make emergency brake adjustments. More tools were chucked to the Island of Misfit Tools.
Almost without noticing, with the appearance of the Pro Minitool 11 in my stocking on Christmas morning my quest came to an end. The nickel-plated steel tools don't rust, the alloy body is solid, the tool is thin and light enough not to cause any sag or discomfort in the jersey.  Beautifully made, the tool folds smoothly and the 8mm hex snaps off to reveal a 6mm hex below it.  Unlike most tools that attempt this feat, this one pulls it off with the addition of a ball lock.  All the tools are cut precisely and cleanly cut, making it a pleasure to work with. Amazing.
It feels so good in the hand, it's tempting not to carry it around and fiddle with it all day. But I don't. Not anymore. Starting tomorrow.