Reverence: Malteni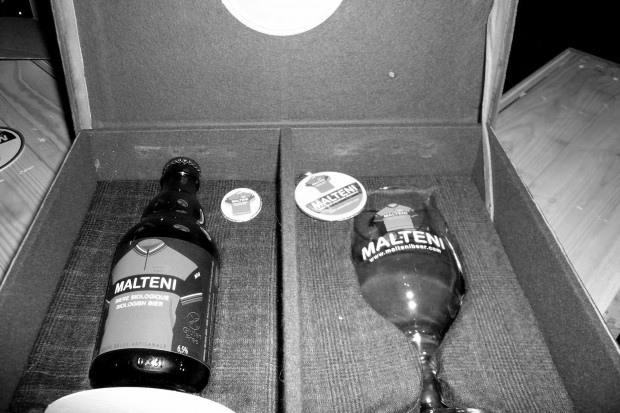 Cyclists can (and usually do) go on for hours as to why they ride their bikes, and most of their reasons can sound, well, a bit flakey to anyone not enamored with shaved legs and being done up in lycra. "I do it to keep fit", "It keeps me slim", "I'm a competitor, I love to race", "It's the freedom it gives me, an escape from the day to day". Ok, maybe a few of those are somewhat justifible, but we all know why we really ride; so we can drink beer. And if you are tutting and pffting at that statement, then you probably don't belong here. Cycling and beer are kindred spirits, inseperable, like Moore and Cook, Hall and Oates, Fränk and Andy, Gunderson and lying.
You need look no further for proof than Belgium. It's where both beer and cycling were invented (I don't know if that's actually true, but the Belgians do both better than most so I'm running with it). Any Cyclist or beer drinker worth their malt will always look to Belgium for the very best of their craft. We're talking Merckx, Duvel, Van Looy, Leffe, Boonen, Chimay, Museeuw and Malteni. Try and tell me any of those names don't conjur up greatness.
Malteni, you ask? Why yes… this has to be one of my favourite Belgian beers, and not only because there is an almost endless supply of it catered for on Keepers Tour. You could offer me all the Budweiser at the ToC or Vic Bitter at the TDU that I could drink, and I'd probably choose to go dry. But at the end of a day of being pummeled by pavé or crushed by kasseien and bergs, a cold Malteni is the proverbial icing on the cobbled cake. Got a long day of spectating ahead on the Oude Kwaremont? A backpack full of the malted goodness will keep you in fine fettle and make the frites even tastier. We tested it on real live Flandrians and all were suitably impressed (then suitably disappointed when we refused a chaser). The kicker? Its gluten-free, which means it will make you live longer the more of it you drink. And there's no hangover. Believe me, we tried.
As cycling isn't about just riding, beer isn't about just drinking (or drinking to get drunk, a concept largely lost on anyone swilling Bud, VB or Tui). It is about the senses; the effects we get from both riding a finely tuned bicycle and imbibing a quality ale are quite similar. Bikes and beer both look good, they smell good, and they provide us a cerebral and physical euphoria that at once relaxes and stimulates us. Enjoying both activities, in tandem, in the motherland is like reaching the cyclists' nirvana. Yes, I'm looking forward to meeting up with old and new friends and riding the storied roads of the Monuments with The Lion this April, but if there were no Malteni at the end of each day, then the Belgian experience just wouldn't be completely and genuinely Belgian.
[dmalbum path="/velominati.com/content/Photo Galleries/[email protected]/Malteni/"/]