Anatomy of a Photo: Sean Yates V. 2.0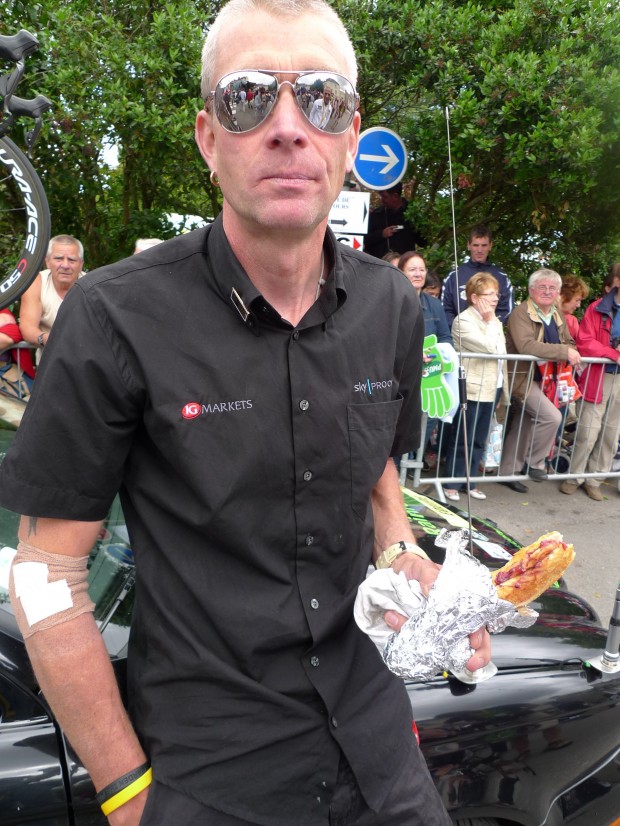 Sweet Jesus, here is a DS you can't bluff. Having Raas, Tchmil or Sean Yates as a director must make you a better rider; you will be getting little sympathy from the team car with one of these guys behind the wheel. Some ex-racers really let go when they retire but only Sean Yates looks meaner and leaner after he quits the pro peloton. This photo is quite a contrast to an old photo from his early years in the professional ranks.
We have always held Sean in very high esteem. He has always appeared unstoppable, indestructible, a cyclist who actually might end up winning a bar fight. I bet he can put some of the present climbers on the Sky team in a spot of bother on the flats any time he rides with them. He even looks bandaged up here like he went down in a corner. And that black wrist band, I reckon it is a HTFU, Rule V special. No need to speak to a rider when he drops back to the team car to moan about the work being done on the front for Cav, just a quick look towards his black wrist band is all it takes.