Badass by Association: Winter Riding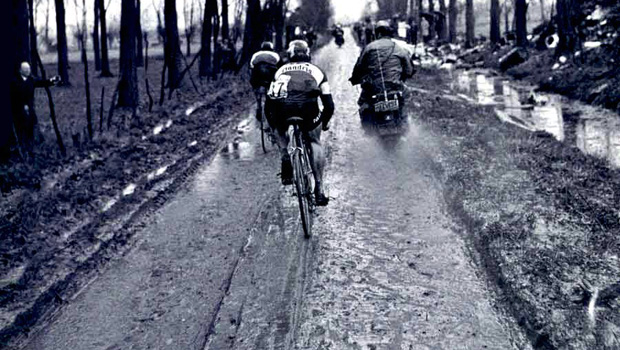 To me, there is nothing cooler than riding in awful weather. It automatically associates you with the Spring Classics, held in wet, wind, and rain, over the the worst roads you can imagine. There is no image of cycling that I love more than of a tough Belgian Pro dressed in knickers, arm warmers, cycling cap perched beneath their helmet, grimace upon the face, and rain pouring from the skies.
The only good thing about winter and spring training is the fact that simply climbing on the machine that day means you are an automatic badass. Hell, you don't even have to ride hard, just being out means you're awesome. But I'll be honest: I never ride harder than in the pouring rain, the drops of water dripping off my cycling cap tapping out my rhythm like a metronome, looking down at my knee warmers and shoe covers and imagining I'm cutting my teeth as a Pro on some godforsaken road somewhere in Belgium or Northern France.
Today was actually a beautiful day, but it was cold, so I dressed in my warmest gear and headed out on the road, Badass by Association. It's one of the Rules.
I even took some shots of myself, Dan O Style. How did we satisfy our narcissistic self-portrait needs before cell phones?
[dmalbum path="/velominati.com/content/Photo Galleries/[email protected]/Winter Riding/"/]