Royce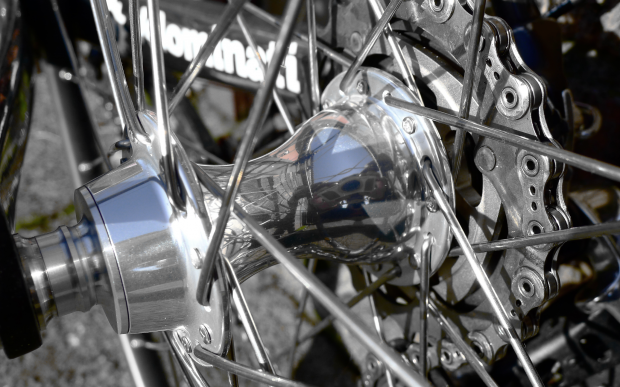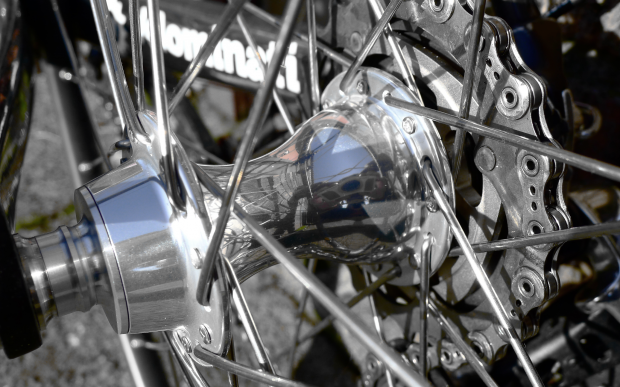 Some years ago, Issue 12 of Rouleur reawakened an obsession in me, one with a peculiar nature to it that only bicycle parts can invoke. For as long as I can remember, Royce hubs have seemed like the ultimate bicycle component: painstakingly hand-crafted to the tightest tolerances for error in the industry. With a reputation for indestructibility, ulta-high performance, and unmatched beauty, their appeal was made irresistible by the fact that they are completely unknown and seemingly impossible to come by in the United States.
Back in the early nineties, when the Internet was but a sparkle in Al Gore's eye, Cycling coverage in the States was much more sparse than it is today. Television coverage was non-existent, VeloNews and Winning were the only two worthwhile cycling periodicals, and if an American won a race, it might make the back page of the Sports section in some papers that week. I filled my days devouring and re-devouring any Cycling-related books I could find, watching whatever VHS cassettes World Cycling Productions made available, and leafing through all of the Cycling Magazines my family gathered for me during trips abroad.
It is therefor impossible for me to say exactly when it was that I first heard of Royce and how I got my hands on the story, but it was of Will Fotheringham famously recounting that during the 1993 Tour de France, he was asked to bring a specialty wheelset over from the UK for Robert Millar, who at that stage in his career was struggling a bit and hungered for any advantage he could find. The wheels were built around a set of Royce hubs.
Having no means to learn anything real about the company, it took on the mystical. It was all rumors, but the name kept creeping about; Sean Yates used their components and Chris Boardman – the quintessential Bike Geek – was said to absolutely love their bits and had a particular affinity for their bottom bracket axels which he used in all his time trial bikes. For Boardman's 2000 Athlete's Hour Record, Royce was in charge of the wheels and supplied the hubs, machined the nipples, and customized the spokes (the nipples were recessed into the rims).
Then the trail went cold.
With not enough fuel to sustain the burn, the fire eventually died down, until that issue of Rouleur turned up in my mailbox with a dozen pages dedicated to the company and to Boardman's attempt on the Hour. With the power of the Internet at my disposal and the information provided by the article, I was able to discover much more about them than ever before, but the rationalization to buy a set of hubs – should I even be able to track some down – didn't present itself until Keepers Tour and its inevitable justification for building a set of indestructible wheels.
Royce is a small company, who focuses primarily on building their parts to order. They don't mass-produce and provide stock the way companies like Shimano, Chris King, or even Campagnolo do. They work closely with select riders and work to provide highly specialized equipment; while they do produce standard road hubs, their production is limited and are generally fairly hard to come by.
One of the things I love most about handmade products is the small irregularities that remind you that a person – not a machine – crafted the product you hold in your hands. The finish on Royce hubs is otherworldly, but at the same time, the marks of a craftsman are upon them everywhere; in those small ways, the hubs I own are different from every other set in the world.
Handmade hubs also take time to break in. The Royce hubs, as they emerged from their box, held a stiffness in their bearings that would require several hundred kilometeres before they would adopt the feathery lightness for which they're known. Having to ride the lightness into a set of hubs bonds you to them in a way a perfectly machined set will never do; with every turn of the silky bearings echoes each kilometer you worked together to arrive at where you are.
My handmade wheels – with the Golden Tickets and Royce hubs, represent for me the ultimate in customized bicycle components. They are not as fast as my Zipp wheels, and not as light. But in our short months together, we have already built a story that only serves to strengthen my love for Cycling. When my wheels and I return from Belgium in April, battered and bruised after carrying each other over the harshest and most sacred roads in Europe, the story will have become only richer.
Vive La Vie Velominatus.
[dmalbum path="/velominati.com/content/Photo Galleries/[email protected]/Royce/"/]