Velominati Super Prestige: Tour de France Stage 17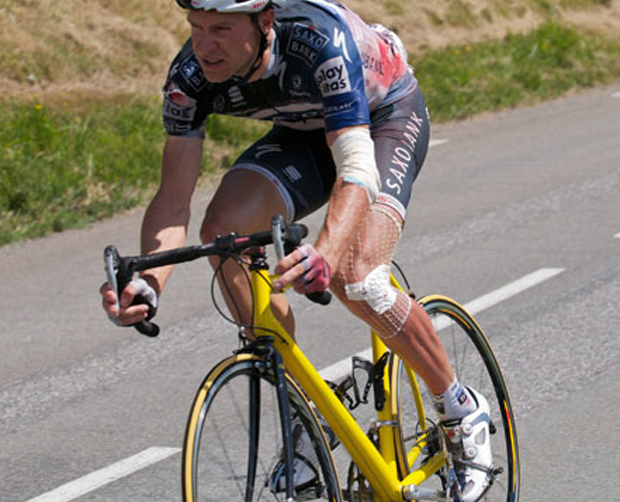 At one point [Conan the Barbarian], and his other old warrior friends capture this village, but then they find that they are surrounded by an army of tens of thousands, and his only reaction is, "Oh man, it's going to take days to kill all these people!" – Jens Voigt
This (paraphrased) passage from Terry Pratchett's parody of the famous character helped Jens struggle through a stage that would have seen weaker men climb into the broom wagon.  But struggle through he did, and he should swing his leg over the top tube of his (own) bike again at the start line of Stage 17.
I look at this photo and realize that I'm a sick man.  I see his blood-soaked clothes and body, and the first thing I say to myself is, "How did he get his Speedplay cleats to stay in those old pedals?  And check out those sweet old Campy Chorus alu Ergos!  I've been looking for a pair of those!"
But I digress.  The inaugural Velominati Super Prestige launches it's third VSP Sub-Competition with Stage 17 of the Tour de France.  The competition will allow contestants the opportunity to win bonus points in the VSP Tour de France by choosing the top three finishers of the stage for a chance to win 3 points for first place, 2 for second, and 1 for third.
Stage 17 should prove to be the most decisive stage of the race, providing Brother Grimpeur the Younger his final legitimate opportunity to win this Tour de France while – in theory at least – Bertie YouTube needs to do little more than defend his position to be almost assured of taking his third crown. Schleck said during the rest day that the first man to reach La Mongie atop the Tourmalet will win this Tour; will Grimpito set off the Guns of Navarone and take enough time in order to stave off the inevitable surge from Contador in the final time trial on Saturday?  Or will the Climbing Paella launch a surprise attack to prove he is the strongest climber in this years Tour, taking time out of Schleck before the time trial?
Make your picks for the top three of the day by the time tomorrow's stage starts, regular VSP Rules apply.  Good luck!