Velominati Super Prestige: Tour de France Stage 19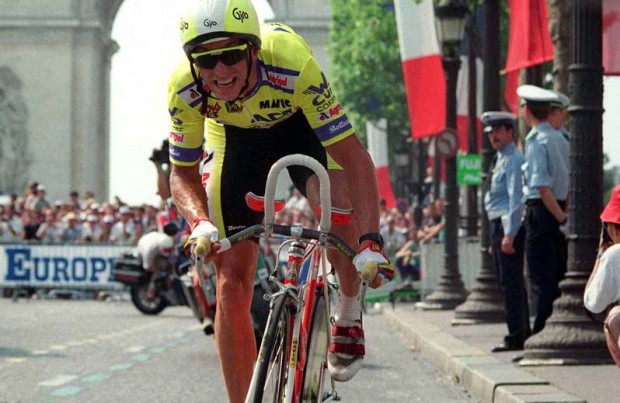 Looking back on this year's Tour, it occurs to me it's been one of the best Tours I've seen.  The 2003 Tour will forever go down as my favorite, but mostly because we were there that year, my boy Jan Ullrich nearly won, and I got to sit on Ullrich's TT bike right before he stomped all over Armstrong.  I never said I wasn't biased.
This year has seen a battle between two riders so closely matched that neither has been able to decisively take the upper hand, although the scales appear to be tipped in the favor of the defending Champion as we enter final time trial.  As I look to tomorrow's stage, I take inspiration in the closest-ever Tour: 1989.  I take inspiration for three reasons.  The first and most obvious is that in that year we saw a similarly close pairing between Greg LeMond and Laurent Fignon.  The second is that the underdog was behind and had little chance of stepping onto the top step of the podium in Paris – but there was a chance.  The third reason is that the final winning margin by LeMan over Le Professeur was 8 seconds – the same amount of time that separates Bertie and the Grimp as we enter the stage.  Coincidence?  No, it is more likely to be a prophesy, methinks.
In all likelihood, however, the stage win will not be fought out between the top two men overall; tomorrow will be the domain of the TT specialists who managed to drag themselves over the bumps, hills, and mountains to get this far.  Spartacus, Millar, Syrup, Martin; these are the men who will fight for stage glory.
So, without further ado, we continue with the inaugural Velominati Super Prestige's final Tour de France VSP Sub-Competition for Stage 19.  Usual game; contestants have the opportunity to win bonus points in the VSP Tour de France by choosing the top three finishers of the final time trial for a chance to win 3 points for first place, 2 for second, and 1 for third.
New for this competition: An additional bonus point goes to anyone who identifies the most egregious Rule Violation of the day.
Make your picks by the time the stage starts, regular VSP Rules apply.  Good luck!