The Big Engine that Just Might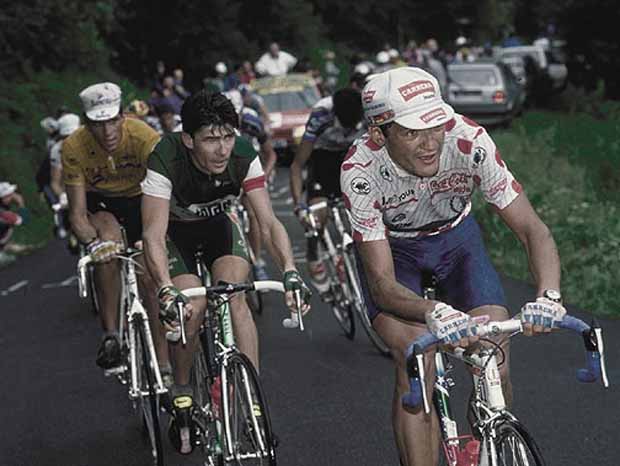 I think the last time I cheered for the guy who won the Tour de France must have been Greg LeMond in 1990. Although he would later become one of my favorite riders ever, I didn't cheer for Jan Ullrich in 1997 because wasn't cool enough yet.  I didn't cheer for another eternal favorite, Marco Pantani, in 1998 because I was too distracted by whatever kids in college do when they turn 21 and become compelled to explore the effects of (legally) combining alcohol with every imaginable activity.
I rarely cheer for the guy who wins a bike race because I'm usually busy cheering for the guy who will probably loose it, just.  This underdog business started in 1991, when I hoped Gianni Bugno would win the Tour.  I could never get excited about Miguel Indurain (there really wasn't anything exciting about him, was there?), but I had never been a fan of Bugno's, either.  That changed the moment I saw him fighting up to Val-Louron, pedaling in his smooth style wearing his tricolore of Italian Road Champion in hopeless pursuit of the escaped Indurain and Claudio Chiappucci.  It was at that moment that I embarked on a journey of heartbreak punctuated by brief moments of elation when my favorite riders defy the odds to experience success in the biggest races.
There is nothing exciting about watching the best riders in the world win the biggest races in the world time and again. There is no excitement in watching the pre-race favorite pull on the Maillot Jaune, again.  There is no excitement in watching the best lead out train deliver the fastest sprinter to the line at the close of every flat race.  It's always impressive – don't get me wrong – but it isn't "exciting".  It is the opposite, actually – it's "predictable".
Exciting is watching a rider show courage in the face of loads of pain and almost certain defeat. Exciting is watching a rider take a chance on a day-long break. Exciting is watching a rider attack over and over again because maybe just one more attack is all it will take to win. The riders who dare hope and take chances are those who inspire me. This is a hard road; I spend most of the races disappointed that my favorite rider lost. But on the days when they win, the thrill tastes sweet upon my tongue.
I cheered for Bugno throughout the '91 Tour and again in '92. He was Gianni Bugno, the Big Engine that Just Might. By '93, he was so deeply into his "Indurain Complex" that he was more "frustrating" than he was "exciting"; he had become Gianni Bugno, the Big Engine that Usually Didn't. That was a different kind of predictable, but predictable all the same. I moved on, and over the years have found various other riders to support in equal measure who each show similar properties in terms of talent, skill, determination, and likelihood of winning.
Le Grand Frére Grimpeur is my current favorite Big Engine that Just Might, and I think he'll stay in that position throughout his career, mostly because he's not likely to ever be good enough to win the Tour.  But every year I'll hope he does, because that would be exciting. Sadly, he crashed out this year, and as such Le Petite Frére Grimpeur took his place. The little zipper might have won, too, were it not for some bad luck and questionable tactics.  It wasn't to be, and this year at least, he was the Big Engine that Couldn't Quite.
And therein lies the secret: He was almost The Big Engine that Barely Did.  And next year he appears to be the Big Engine that Probably Could but Might Not. But as soon as he become the Big Engine That Usually Does, it stops being exciting, and I'll have to move on.
As far as Tours de France go – certainly those in the last decade – the 2010 edition ranks among the best, even if we could have been treated to less tactical riding and more opportunistic attacks.  The defending champion showed signs of being the Big Engine that Might Not, and that gave for lots of excitement on both sides of the cheering fence. Here's hoping next year's edition proves to be at least as good as this one.