Goldilocks Principle: The Golden Ratio
There is a disturbance in the V. I have felt it for some time, and I suspect many of you have as well. The matter has to do with the ever increasing length of bibshorts and socks, approaching the knee like two lionesses stalking their prey in the savanna.
Tracing back to the origin of this trend, we find ourselves irrevocably wagging our judging finger at none other than Lance Armstrong. Personally, I find his foray into tall, black socks and long bibshorts far more offensive than his doping; at least his doping respected the history of the sport whereas his choice of sock and bib length was an affront to taste and style with long lasting effect.
Sock lengths have been heading steadily upwards over the past decade; once the only sock available was a white 3/4 sock but today we have socks of all lengths, shapes, and sizes. Bibshorts used to be mid-thigh or less, whereas now they fall just shy of the knee. It is outrageous and the Pros, to whom we look to for cues on style, are setting the trend. It is a disgrace.
I say enough is enough. This foul trend must come to an end. We cultivate our massive guns with great pride, yet these cover their magnificence with long shorts and socks.
Reveal the V in order to Feel the V. Bibshorts must not migrate below the uppermost point of the inverted V created by our quadriceps.
Avoid the chokehold. As much as we want to Reveal The V, we don't want to go around choking the flow off by wearing our bibs too high. Bibshorts should come at least to the midpoint of the thigh.
Sockless is about as bad as riding in a speedo (I'm looking at you, triathletes.) A fellow joined a group ride not too long ago wearing ankle socks and I made him go sort that shit out before we started the ride. Some things just aren't done.
Compression socks are for recovery only. Maybe not even that. And knee-high socks or only for sassy women Cyclocrossers. Maybe. But they absolutely, unequivocally are not for riding on the road. Seriously.
Settle into Zone 3. Just like training in zones, we want to keep our socks in the right zones as well. The optimum sock length rests at a point of your choosing within a range of 2cm above or below the narrowest point of your shin.
Help stave off the apocalypse and bring balance back to the V. Friends don't let friends violation the Goldilocks Principle.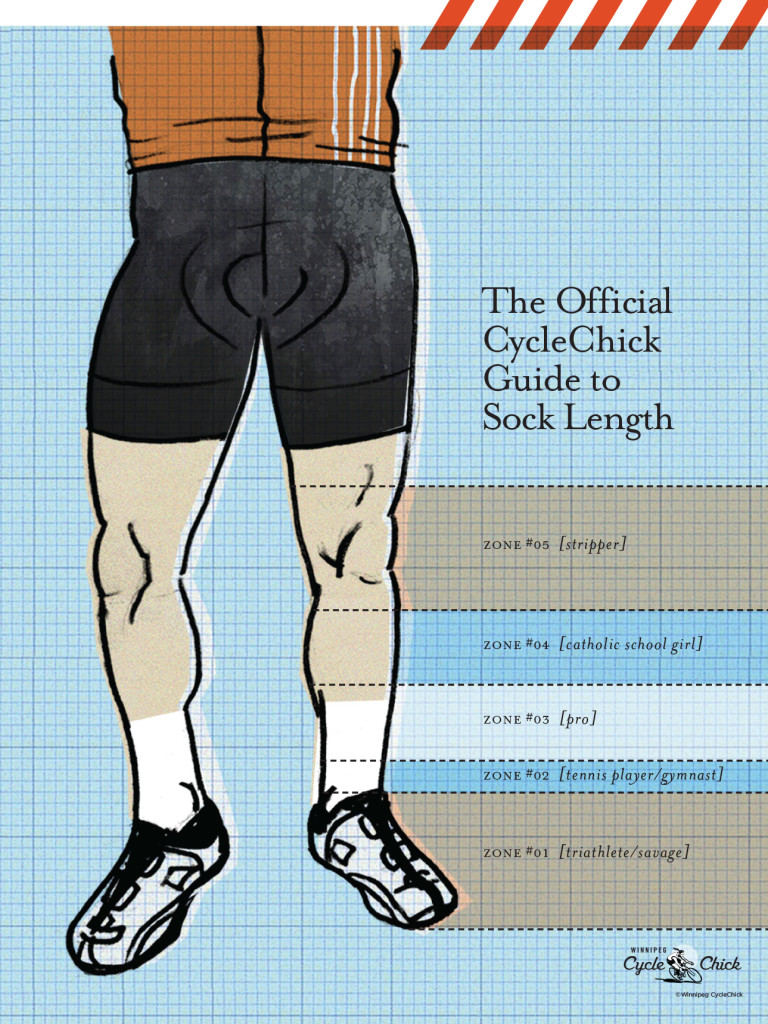 Sock length as decreed by our friend @winnipegcyclechick