Guest Article: The Apple of Cyclops' Eye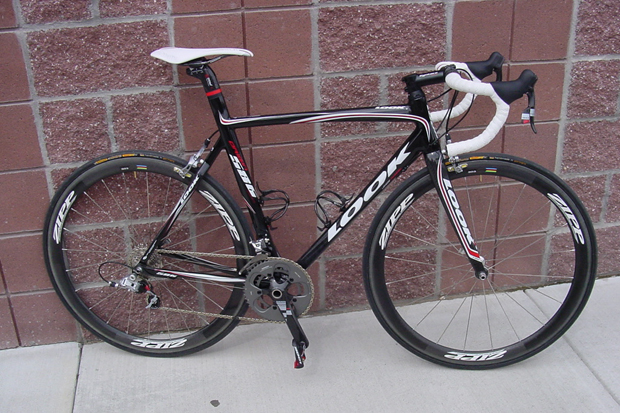 Has anyone heard? Jeff in PetroMetro has a Look. So does Marcus. So does Ron, and probably some others who haven't told us (over and over and over). So does Cyclops. His old bike – his Cannonwhale – suffered from a mathematical challenge more so than it did from one of performance.
Look is a brand that holds a seat at the table of legendary bike brands despite being relatively new to the market. My understanding is that they were originally involved in ski bindings and entered the cycling market by way of adapting the safety-release for bindings to pedals, thereby eliminating the need for toe clips. (I've tested the safety mechanism on ski bindings extensively, and by process of the "Signature Frank Double-Release", can testify that the system works quite well.) They quickly moved into frame building, and by the mid-eighties, Bernard Hinault was winning the Tour de France aboard a Hinault-badge(re)d Look frame. The rest, as they say is History, and now Cyclops owns one. Enjoy.
Yours in Cycling,
Frank
—
28 of 200 – That's what the little sticker on the downtube says.
Since I've worked at bike shops at various times in my life I've always had a fairly nice road bike. I owned a Guerciotti labeled aluminum Alan with Super Record back in the 80's, a Bridgestone RB1 in the 90's, a Columbus tubed, Campy Daytona equipped Univega at the turn of the century, and about five years ago I got a hold of a used Dura Ace Cannondale CAAD5 that this Velominatus Budgetatus parleyed into a SRAM Force Cannondale Carbon Six. All of them worthy steeds but none were the stuff that dreams were made of as far as I was concerned.
As is my wont – and I'm sure many other Velominati €" much mental bandwidth has been devoted to meditating on what I would consider the ultimate bike. There were many candidates to be sure €" Cervelo R3sl, BMC Team Machine, Colnago C50, Pinarello Dogma, TIME RXR Ulteam €" but LOOKs have always held me as a willing pawn to their voodoo. Ask my wife, who knows as much about bikes as I know about rocket surgery, what would be my dream bike and it would only be a second or two before she blurted out €œLOOK?€
But a dream is more than a frameset. You need some sexy wheels and provocative parts to hang on the frame in question. I've grown tired of all things Shimano and though I have been a Campy whore from way back I have been willing to risk a Schleckanical of the Red nature long before the term reared its entymological head. In a nutshell a LOOK frameset, SRAM Red, Zipp tubulars, and a cockpit decent enough to be seen in the same company of those three amigos would make me happier than a Frenchman in the Maillot Jaune.
As we all know the cycling gods can wax and wane from capricious blessing to mocking ridicule. But I've done the best I can to fly under their radar in contentment rather than daring to hope and risk being set up for being toyed with by the powers that roam to and fro in the rarified heights of absolute top of the line bikes. But from time to time the planets align and circumstances like 50th birthdays and changes in economic status present themselves so I decided that a new bike was within my grasp. But I still did not want to be too pretentious and plop my cash down on a Cervelo R5ca or a Focus Izalco Ultimate. So I set a limit of $7000 and I was not going to go one cent over that. Unfortunately a LOOK with the aforementioned parts was closer to $8k. But I could easily swing a Cervelo R3 or a BMC Race Machine.
Over the last few months I've sent queries to various bike shops and internet merchants seeking bids for one of these bikes equipped the way I wanted it and I've €œbuilt€ LOOKs, TIMEs, and BMCs on Wrench Science and Competitive Cyclist so many times that I can see their web pages in my sleep. But even these online outlets came in over the magic number so I narrowed it down to either a Cervelo R3 (with its BSright proprietary BB/crankset combo) or a Franco Balcom Road. Julian at Franco pretty much had me sold on his wares seeing as his bike was going to come in at a grand less than the Cervelo so it was just a matter of giving him a call and handing over the credit card.
But I still kept punching LOOK Bikes into the search engine and clicking on the link to the LOOK site. Then by chance I typed LOOK 586 into eBay the other day and BAM!!!! LOOK 586 R-Light Limited Edition, new in the box, SRAM RED, Zipp 303 tubulars, $6000 right at the top of the list. Are my eyes deceiving me? This is a $10k bike. Is it my size? Is it some sort of cosmic scam designed to crush the spirit of this humble Velominatus? I came home and told Mrs. Cyclops and her eye widened in excitement and she said €œShouldn't you buy it before it's gone?€ I immediately logged on and clicked €œBuy It Now€ and broke out in a cold sweat. Did that just happen? Did I just buy my dream bike?
[dmalbum path="/velominati.com/content/Photo Galleries/[email protected]/Cyclops LOOK 586/"/]
That was two Fridays ago. The bike showed up today at 10am. My boss, who completely neutered himself by buying a 700c, flat barred, I'm an obsequies pussy that thinks the €œV€ is a television show about hot aliens, comfort bike earlier this year was just as excited as I was to see what was in the box. After all the oohs and aahs he was like €œI guess I'll see you tomorrow then.€  I ran home and commenced the unpacking/assembly process. Now before I actually pulled the trigger my wife kept asking €œAre you sure this has everything the way you want it?€ €œWell, I would like another set of pedals (I run LOOK Keo Carbons on my Cannondale) but I guess I can switch them from bike to bike for the time being.€ €œI'm not sure about the seat either. I hope it's comfortable.€ Small concessions I must say. But as I opened the little box that contained the various small parts the first thing I noticed was a pair of Keo Carbon Ti pedals – freakin' titanium spindles! I wasn't even expecting pedals. Then I opened the box that had the E-Post in it and it was the top of the line E-Post Ti with all the titanium bits. And nestled neatly next to it was a 125g Selle Italia carbon railed SLR! What joy, what bliss! Then I noticed that the Red shifters were equipped with Gore Ride On cables. It just keeps getting better and better!
I continued with the assembly process and then arrived at the moment of truth €" cutting the Integrated Seat Post. I placed a level on the seat of my Cannondale and measured from the center of the BB to the level right in line with the seat tube once, twice, fifteen times. Man, I didn't want to screw this up. Then I placed the E-Post in the uncut seat mast, leveled the seat and placed the level on it and measured the same way as before (at least five or six times too). Then I subtracted the first figure from the second to arrive at what needed to be removed from the ISP. I wrapped the ISP with blue painter's tape at the measurement and marked it with a pen. The E-Post comes with a cutting guide that can be tightened down on the ISP and has a narrow slot to guide the (new) hacksaw blade. As one more check I held the E-Post in line with the cutting guide and was satisfied that I wasn't about to ruin a $4000 frame. The cutting guide did its job and I slide the E-Post into place and tightened it down. Put on the S-Works Stealth Slippers and clipped in. Perfect.
And now for the maiden voyage. I had skipped lunch in order to get the bike assembled as quickly as possible so I squirted some Hammer Gel in the mouth and headed out for a quick 35k. I stopped at the bike shop to see what it weighed and it was 14.04 lbs/6.36kg (take that @Marcus) with pedals and cages. The first thing that I noticed once out on the road was the stiffness of the Syntace carbon handlebars. The Syntace bars and stem are the only parts on the bike that were suspect. I have heard of the company but know little about them. But the ergo bend of the drops is very similar to the Easton EC90's on the Cannondale so that's cool. However they do have a little swoop back/curve to the tops of the bars in conjunction with an ergo/aero shape that I instantly liked once I got my paws on them. The next thing that I noticed was that both the front and the rear SRAM Red derailleurs shift WAAAAAY crisper and quicker than the SRAM Force on Bike #2. I don't know if this can be attributed to the mechanics of the Red components or the Gore cables (or both) but it sure is nice. Next, I would say that the Selle Italia SLR saddle is probably the most comfortable saddle that I've ever ridden on.
Does the frame ride like a $4k frame? Well, Specialized was in town two weeks ago with their demo bikes and I spent an hour on an S-Works Tarmac SL3 with Zipp 202 tubs and I must say that they felt very similar. The LOOK's front end was stiff and the bike squirted forward willingly with every pedal stroke yet I felt no harshness from the chip sealed road. The bike is very comfortable. And what about the Zipp 303's you ask? It was fairly windy on the way out but the wind seemed to have little effect on them and I liked that they don't seem to be as noisy as some carbon wheels that I've heard rattling around behind me. There's really only two things to complain about on the bike €" the Red Cassette is noisy but I expected that from things I had read about them and the LOOK bar tape seems kind of cheesy. It is very plasticy and seems like something (as far as feel goes) that you would find on a bike dug out of the basement of your English neighbor's house. Other than that I can't believe that this bike is sitting in my house right now. It is everything that I have hoped for and it is mine to enjoy. I plan on laying some serious V down with it. See you on the road.
Oh, and it matches my team kit and Stealth Slippers perfectly.
Addendum #1: The SRAM Red cassette is WAY too noisy. It's driving me nuts. I'll be switching that out to a 7900 Dura Ace shortly.
Addendum #2: I've had the chance to descend in the wind on the 303's and things can get interesting but it feels like I'm getting used to them.
Addendum #3: I was out on a small group ride in a different town last night with riders I had never ridden with before and was given a heads up about the two "sprint zones" at the end of the ride. At the first one a guy jumped and I was able to ride around him and collect max points. On the second one I was in the front with the sun behind us and I saw a shadow jump and I was able to pull a Cavendouche and ride away from them again. The LOOK is stiff and FAST!!!! I feel way more comfortable sprinting on it than the Cannondale.