Bikeography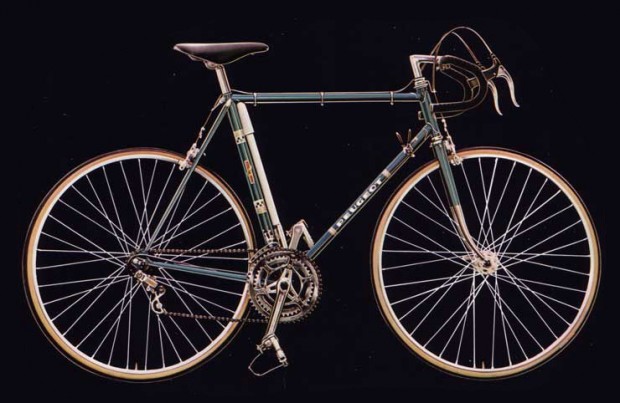 I've reflected on my bike stable, where it started and where it is now.
Peugeot PX10-LE. 1977. A champagne gold hunk of French madness. It was advertised as Monsieur Thevenet's current racing model but I doubt he got this. The frame was nothing out of the ordinary but copper wire wrapping at the spoke crossings, sew-ups, 52 x44 Stronglight cranks with drilled out inner chainring! Mon Dieu! French diameter tubes, French threads, French components, all evidence that the French should not be operating so many nuclear power plants. French or not this ride was a totally different experience from the mongrel bikes I had owned or borrowed before.
Bella. 1984. Ed Blank, a Somerville, Mass. builder built me a standard 60cm Columbus steel lugged road frame, a Bella. Ed was a one-man shop. His decals were outrageously detailed and beautiful. He had apprenticed in Italy and his decals were homage to it. I picked up the frame, put it on a table and stared and stared. It was the most beautiful thing in the Universe. It was then built up with Campy Record, the ride was smooth, the handling quick and precise, a profound improvement from the factory produced Peugeot.
Merlin Extralight. 1998. It was the result of the shop owner asking one of those loaded questions, "What size frame do you ride?" My local shop was the second largest Merlin dealer in the state so the town was totally contaminated with shiny Ti bikes. These frames were so expensive my best friend(also my clone) and I went in together on a used frame and fork. I went to the factory to retrieve it. An employee and I buffed it with scotchbright pads, reapplied decals and I walked out with a seemingly brand new Ti frame. That evening my clone and I met at a bar, which had a quiet upstairs. I put the frame on a coffee table in front of us and we toasted our new bike and ourselves repeatedly. We owned a Merlin!
We would go on rides with the co-owned Merlin and one of our steel bikes where a midpoint switch over was required. Moaning ensued but this direct comparison was amazing. The Merlin was much faster for the same effort on the flats and going uphill was completely different, faster effortless floating up. It was the death knell for our trusty steel bikes.
Since then I have assumed I owned the last bike I would ever own. This Ti bike would never rust or fatigue and it was the pinnacle of cycling materials and design.
Last Spring my wife and I were behind the scenes at the Tour of the Gila in New Mexico and every racing bike was carbon, if one poor suffering bastard was on an aluminum bike I didn't see it. I was slightly off put, "really, titanium? Is it that retro? Am I that retro?"
My local shop rarely sells a Merlin now and Trek is its main line. My friend PJ, an ex-racer who puts in 6,000 miles every year on one of his two Merlin Extralights threw down money for a Madone and sent me this report. His reference to the scene of the crime was where a car recently hit him.
The Madone is simply amazing. I've owned a whole pile of bikes, but I've never ridden anything like this. First time down the street, it felt stiffer and faster.

I've ridden 280 miles since getting back on in a little over a week. 150 have been on the Madone. On the usual bridge ride, the Madone feels light, comfortable — the 2010 bikes have a little bit longer effective top tube and it is exactly what I wanted so the fit is perfect. The BB stiffness is very noticeable. It handles very well, very crisp, likely due to the stiff front end. The BB just doesn't move. At all. It just feels like all effort goes into making it go.

On the Service Road, once I passed the scene of the crime, the thing just came alive. I was just going along up and down, and got to the end thinking "how did I get here already?". The thing just jumps up hills, and when I'd get near the top after a normal effort, I'd still have a lot left to just spin the thing up and over. I did the ride in just about three hours, about normal time, and felt a lot fresher than usual after — even after two months off the bike — the thing seems to soak up road shock. Not feeling soft, but just that the shock doesn't get to you.

All in all, the thing is just incredible. It makes the Merlin feel sluggish if you can believe that. All in all, I'd be loosing some competitive advantage if more of 'em started showing up on the bike path.
The whole point of this overworked wordy ramble is two-fold. For each of the new bikes I have owned they seemed an order of magnitude better than what came before. Each new one has brought happiness and renewed my love for cycling.
Secondly, I really thought the Merlin was IT, this carbon thing was a nutty fad like Vitus frames, it would pass. OK, I guess this is no surprise to everyone else in the world but I'm wrong and that means I get a badass carbon frame sometime in the future. Oh sweetness.