VDB: 1974-2009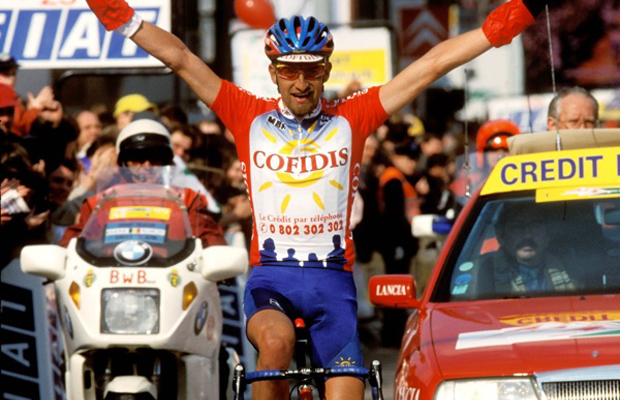 Every now and then, I see a headline that I know won't soon drift from my memory.  Frank Vandenbroucke was found dead today in his hotel room; he had apparently died of  a blood clot.  The death reminds me of a similar headline in 2004, of the death of Marco Pantani. Both capable of incredible rides, both prone to devastating depression, both legends that end in a hotel room.
VDB was the picture of late 90's cycling: extraordinary, jet-fueled exploits that made bike racing spectacular, if not realistic.  And when his wings were clipped by drug scandals, he picked himself up and returned to the sport, only to fall again and again.  His popularity never returned to where it was during 1999 when he won Het Volk and Liege-Bastogne-Liege.
It's hard for us fans to recover from the pain of a fallen hero.  We know it all too well.  When a rider we don't like tests positive, we are angry.  When our favorites fall, it's nothing short of heartbreak.  For me, it's not so much disappointment that they doped (or attempted to dope).  I'm a realist about our sport and while I wish there was no doping, it is part of it.  For me, it's not disappointment that they cheated – it's disappointment that the fairytale is over, and my hero won't be back in the bunch lighting up the races they way they once did.
I don't think we kept VDB at arms length because of his past drug scandals; it was more that he was so easy to love and so prone to failure that we kept him at a distance in order to spare ourselves the heartache of his next fall.  I suppose that, in itself, is heartbreaking.
A glorious talent and spectacular rider.  A man I can't help but believe was driven, tormented, and consumed by cycling.  One who welcomed the culture as it was when he was young, ambitious and was taught the ways of the sport by his own heroes – and who embraced it fully.
Here is Frank, at his finest.
[youtube]http://www.youtube.com/watch?v=Zenlv88feHg[/youtube]