Anatomy of a Photo: 1990 Paris-Roubaix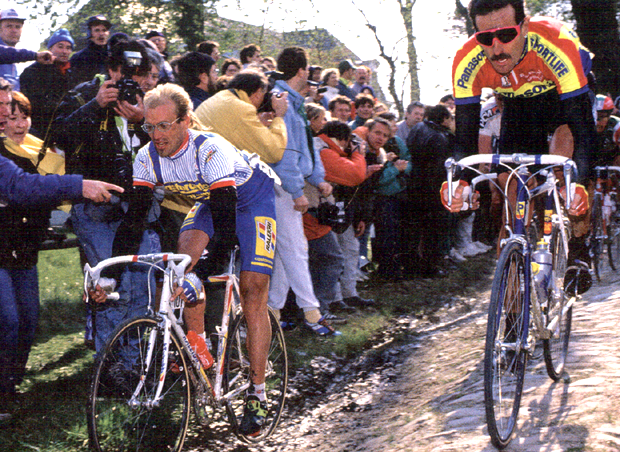 I stared at this photo for about 13 minutes before realizing I should stare at it at least one minute longer.  The simple reason is that this is one of the greatest cycling photos in history.  Firstly, one need only glance briefly between Fignon's legs to spot one of the most gorgeous seatposts ever given to this great sport by St. Campagnolo: the Record Aero.   Fignon is also sporting what is perhaps the most iconic pair of kicks in cycling: the original Sidi Genius – the first cycling shoe to bear a ratchet mechanism rather than a Velcro strap or shoelace tie.  The eyes must drift rightward only a few centimeters to fall upon the  image of Urs Freuler to appreciate the technological dichotomy of the age: Freuler rides the stones aboard a machine equipped with the cutting-edge technology of the day, the Shimano STI lever, paired to the Dodo bird of cycling tradition – toe-clips and lace-up shoes.  Fignon, in painful contrast, rides the most advanced shoes and pedals available at the time but is pawing at downtube shiters, being forced to hold the bars with one hand to shift as he bounces over the pavé.
After spending a few minutes appreciating the tale this photo dares tell, the Velominatus within emerges and my mind immediately moves to the Rules.  Fignon appears to be in compliance, despite wearing the Ugliest Kit Ever.   (There's no Rule against wearing ugly kit if you are a pro, but I have to say it comes as no great surprise that few riders had the courage to win in the Castorama Overalls which mark a low point in kit design.)  His only violation is Rule #36 which stipulates that  you can't wear spectacles (and also implies that you don't collect $200 when you pass Go.)  The one significant question is have is this: what in that road is making a two-time winner of the Tour look so scared?
Freuler, on the other hand, has several problems to grapple with.  First, there's the Facial Hair Rule: No Mustaches.  Second, not only is his stack-height in blatant violation, but it appears his head-tube has been artificially enhanced to rise what appears to be 3cm above the top tube.  That works out to almost 6cm of stack height total.  Shit, is he trying for a record?
And someone please tell me where I can get a pair of those sunglasses.