In Memoriam: Gleaming Metal Bits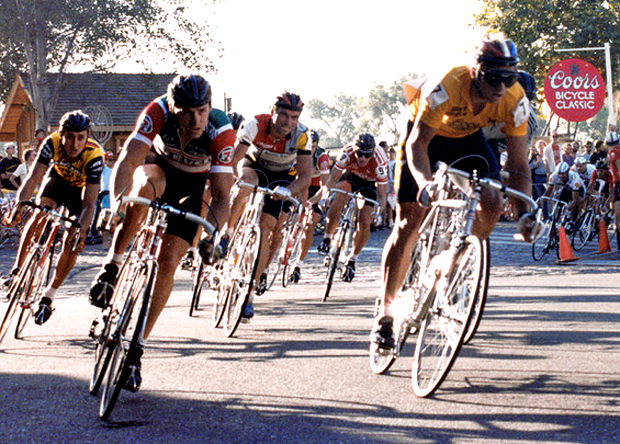 I posted this picture as a joke in yesterday's Anatomy of a Photo piece, but I find myself going back to it over and over, captivated by the way the light gleams off the peloton as they race by. Gleaming metal bits – hubs, cranks, spokes, handlebars, stems, frames, toe clips, all reflecting light from a thousand discrete points as the bunch rolls by, is a thing of the past.
Something of the romanticism of our sport has been crushed under the inevitable advancement of technology, as little by little each handmade alloy component on our bicycles has been displaced by a machine-built carbon replacement. It started with the clipless pedal's succession of the toe clip; robbing us of the shimmering vision of sunlight reflecting off the metal clips from 200 riders' feet as they approached from the distance. Today, even the metal shifting cables on the modern bike have been replaced in some cases by the rubberized cables of electronic drivetrains.
I look at my cherished R3 and, while I fully embrace the advantages and conveniences provided me by it's modern technology, there is hardly a silver component in the lot.  Even most of the alloy components like the stem and bars have been anodized black.  Just the hubs and spokes, and little bits of the front and rear mechs are silver, but even those pieces don't have the polished luster of the machines I see in the photo here.  I wish I knew who took this picture because I'd love to offer him a beer. It's a work of art: the long shadows, the bikes leaning in unison into the corner, the looks of determination on the riders' faces, but most of all, the way the light is exploding out of Greg LeMan's bike.
So, next time you find an old bicycle leaning against a tired wall, it's aluminium components glistening in the sunlight, take a moment to linger and contemplate the beauty of it's componentry.  You will be standing before a relic of a bygone era when the grace and elegance of our great sport was enhanced by the glistening light radiating from the machines that carried our great heroes.