The Trench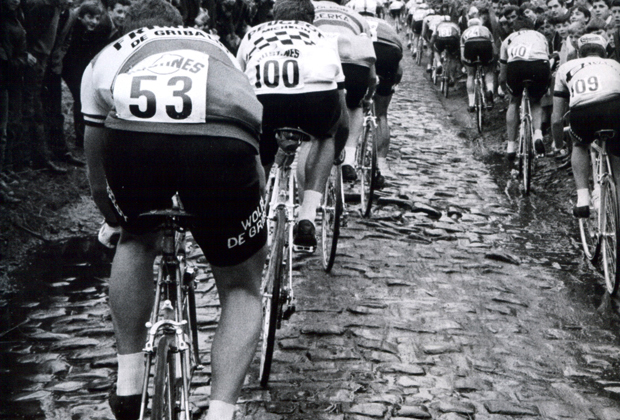 This 1968 photo of the the sector at Wallers-Arenberg shows what it must really be like to ride Paris-Roubaix.  The cobbles are uneven and the holes are deep; the safety of the gutter is dramatically reduced by the deep mud.  At 95km from the finish, the race can't be won here, but it can certainly be lost.
I'm not speaking of personal experience because the only cobblestones I've ever ridden are the smooth stones in the Netherlands and the semi-legitimate stones on Queen-Anne in Seattle, but racing over the cobblestones of Belgium and Northern France takes a special touch that can't be taught.   Riders talk about being sore for ages after arriving in the velodrome at Roubaix; mechanics speak of destroyed, serviceable wheels.
But these terrible stones don't appear to affect everyone in quite the same way. I saw Paris-Roubaix for the first time on an old World Cycling Productions VHS of the 1991 edition.  I watched in awe as the riders jolted over the stones and struggled through the dust.  Suddenly, Marc Madiot seemed to simply float away on the sector of the Carrefour de l'Arbre.  There was something different about the way he rode.  He was in a cadence that seemed somehow in sympathetic vibration with the road surface.  His bicycle moved smoothly beneath him while simultaneously bouncing and jolting over the rocks.  He wasn't mashing a huge gear, but he also wasn't spinning.  Riding on the cobblestones appears to be a perfect balance between harmony and chaos.  I know this on some level from climbing some of the steep cobbled ramps on Queen Anne; on some days – when I stay on top of my gear with just the right touch – the stones seem to almost push me up the hill.  Other days, it seems like every rock stands up to slap my wheels back and every turn of the pedals is a loosing battle in a struggle to get to the top.
This seems to be be corroborated by Roger de Vlaeminck whose mechanic claimed that while most of the rider's wheels after the race were useless and as such discarded, de Vlaeminck's were always perfectly true, were serviceable, staying in the team's rotation.
A light touch on the roughest stone in the world.  Amazing.