Reverence: TRP R960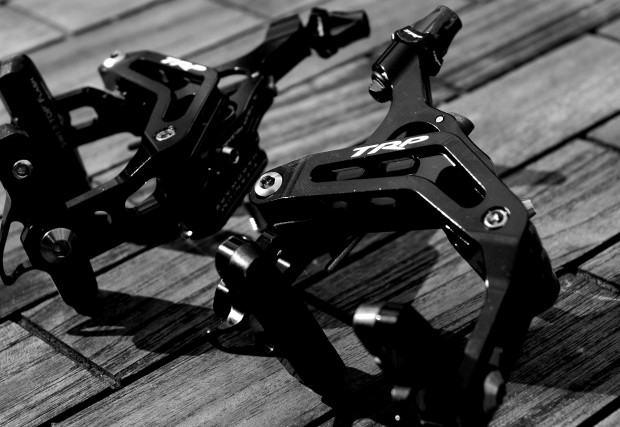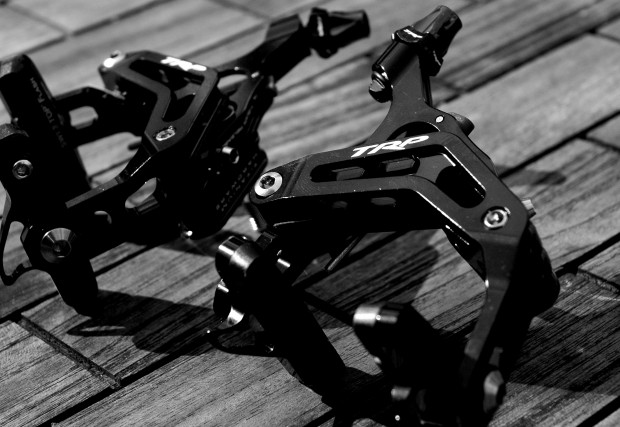 By now you've probably figured out that our Reverence series is not about reviewing gear in the classic review sense. The very word "reverence" connotes that the author of the article holds a certain affinity for the product whereas reviews are meant to be "objective" analyses. Nor is the point of the series necessarily to review the latest gear. It takes time to really appreciate and revere some things. So if you're reading this article with the hope of getting some objective analysis on how TRP's R960 brake set works, stop reading now. This is not an objective review – A) Because I love my pair, B) You certainly have an awareness of these brakes by now as they've been around for a while, and C) I don't really know how well they slow and/or stop my bike. Don't get me wrong here, I'm sure they work fine but they see about as much use on my bike as does my little ring. But don't expect a Reverence: My Little Ring article from me either, I don't want to end up like Frank, battered and beaten, on the great Anti-V Ride of the Year debate. Furthermore, I'm not really sure I even know what the hell "modulation" means. Huang…Huang?
My #1 bike is the first road bike that I've ever built from the frame up. This of course meant that I had complete and utter control over what components I used. I set about building the bike up with Red derailleurs and shifters I had  lusted after, FSA crankset and seat post, Fi'zi:k saddle, Mavic pedals, Dura Ace cassette and chain, 3T bars and stem, and Yokozuna cables. Only your own build allows for such customization. The result is a one-of-a-kind bike adorned with components that were pondered on, anguished over, and carefully selected. Nobody I'm aware of has a bike just like mine.
So when it came to brakes, as with all the other components, I relished the process of finding and selecting the right pair for my bike. Actual reviews of the Red brakes that compliment my levers and shifting mechs did nothing to impress me so I removed those from the list. I've always been very happy with my Shimano brakes and while Dura Ace brakes are often touted as the Holy Grail of stopping, I didn't dare mix SRAM and Shimano, at least not in such an apparent way.  So off to the aftermarket I went pouring over the websites of FSA, Zero Gravity, Cane Creek and probably others.
The R960's just sort of popped out at me from the TRP website. What stood out initially was the machining. The angular, hollowed out and for lack of a better word – industrial look of the brakes appealed to me. They were going on a BMC SLT01 TeamMachine with the same "I-Beamish" look and thus complimented the frame perfectly. Looking at the picture of them though I couldn't imagine that they were light. Weight was not my first consideration but I didn't need them slowing me down anymore than my riding already does. As it happens, the 960's are a bit lighter than the top end brakes of the three major gruppo makers.
From there I surfed on over to some of the usual suspects' review pages. As with all internet reviews of gear, most blokes liked them and some blokes didn't. The blokes who didn't like them driveled on about the ease, or lack thereof, of installation. Here's what I've learned about less than stellar reviews pertaining to installation – most of these reviews are probably written by novice wrenches working on their bikes for the first time away from the watchful eye of their LBS or cycling sensei. I'm certainly no Oli when it comes to bicycle building but I'm a capable hand and don't scare easily. My hunch was right. There's nothing to the installation of the R960's that is any different from other dual pivot caliper brakes I've used. Stretching it, I can see the quick release being a challenge for the dense but really it is a simple lever arm that took all of five seconds to figure out and master.
The first significant cycling trip I did with the R960's was out to Washington for the Tour de Blast in 2010. Along the way I made a side-trip to the Beartooth Pass for some riding as well. Descending the dry conditions of the day on the Beartooth Pass I reached the highest speeds I ever had on non-motorized two wheels and retreating from the mid slopes of Mount St. Helens in pissing rain and wheel spray at 50 kph the R960's inspired confidence.
While visiting Frank for the TdB he asked about the brakes and what I thought of them. Based on my enthusiasm he picked a pair up for his #1 bike. While I've heard him speak highly of the brakes I understand that on his bike they will not allow for a 25mm tire. Curiously enough, I've ridden mine successfully in the cobbled configuration with 25 Gatorskins on Open Pros. The clearance is minimal but totally works. It would be interesting to hear what the good folks at TRP have to say about this. They certainly are low profile brakes meant to be ridden on race bikes with race tires but 25mm tires should still work. I'm not doubting Frank, on the contrary, I find it curious that my BMC will accept a 25mm tire with the R960's but his R3 will not.
[dmalbum path="/velominati.com/content/Photo Galleries/[email protected]/TRP 960/"/]
For this Keeper, the TRP R960's are what brakes should be – awesome looking and light weight accouterments that, like the little ring, are virtually ignored  but very much appreciated when deployed. I'm to understand that TRP's other products are worth a look and ride as well. If the R960's are anything to go by it's a pretty safe bet that their other road calipers and canti cross brakes are solid as well.