Guest Article: Bike #2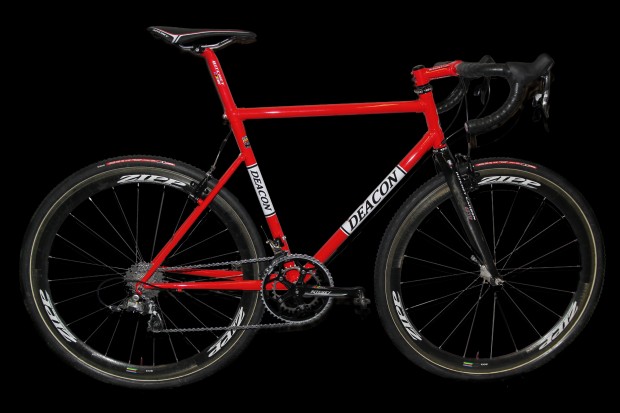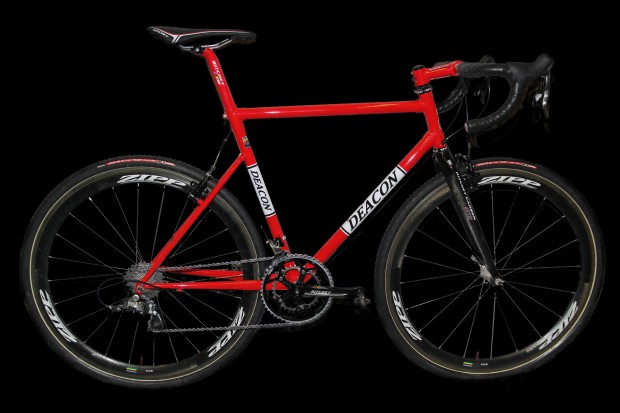 I don't have to tell anyone around here that @Cyclops is weird guy; most of you have already figured that out, and if you haven't figured it out, you will soon enough. But weird doesn't have any negative meaning, if you ask me. In fact, I'd say we're all weird which makes normal more suspect.
Several years ago, long before I'd met him, he emailed asking for my address. Despite founding a international online community, I'm actually rather uncomfortable with internet "friendships", so to be totally honest it freaked me out a little. But he seemed like a good enough guy, so I sent it to him, hoping that whatever he sent me wouldn't be ticking when I got it.
What wound up in my mailbox was the first prototype V-Pint, and it blew my tiny little mind that such a thing could be made. He wasn't the guy who made it, but he thought of it and designed it, and that showed he had some creative and crafty skills. Over the years he sent other creations along – some better than others – and after a bit, I have to admit I got accustomed to him making cool shit and sending it to me. Then I got some emails where he asked very specific questions about when I'd be home to pick up another package; he didn't want it sitting on my porch. Whatever, dude – I'm busy, I live in a good neighborhood, Rule #5. The usual. But he insisted, and I arranged to be home at the time UPS suggested they might deliver the package.
Lo and behold, he had built me a steel CX frame. Un-Be-lievable. What's more, it actually rides really well. Amazing. But now the noob is progressing into his own and starting a buisiness called Deacon Bikes. His tale here chokes me up a bit; I never imagined our little community could inspire such dreams. It is very, very, very cool and I'm filled with pride that we can make a difference in people's lives. 
Thanks again to @Cyclops for the frame and words below. Thanks to all of you in the community who help make this place worth while and help inspire dreams. 
Merckx bless you all. Vive la Vie Velominatus.
Frank
—
Bike #2 is Bike #2 in more than one sense. It is Bike #2 in the classic Velominati sense in that it will be the go-to ride when Rule #9 needs to be applied as well as commuting and the occasional cyclorcross race.  In the more important sense it is bike #2 in that it is the culmination of a nearly life-long dream of becoming a frame builder. It is also Bike #2 because I thought that plopping my fat arse on my first attempt at crafting a "chariot of the gods" could lead to serious injury and/or death – so Bike #1 went to Frank, who was more than willing to risk gun and limb on home-made frame.
But let's get back to that life-long dream. Mrs. Cyclops and I feel very strongly about the entrepreneurial spirit and being free from the bondage of working for someone else*. In light of that we have kicked around various ideas. I have restaurant experience so we've thought of doing a sandwich shop or a brick oven pizza place – The Gran Fondo Pizzeria, all the pizzas would be named after the Classics and Grand Tours – or a food truck. But what is my passion? After further discussion about the role bicycles have played in my life and my passion for them it was decided that "Living the Dream" was the way to go. "The Dream" usually means making a living racing the bike, however at this late stage in the game this would be impossible for me. But the Velominati have taught me that we can still dream nonetheless. So how about building frames AND running a food truck?  It would be pretty cool to show up to the races with a food truck and a sponsored team on my bikes to go with it, huh? More dreams.
It seems that many of us have been "keepers of the law" (aka The Rules) while being unaware of the law. But then we stumble upon www.velominati.com and we are translated from darkness to light. From death to life. We are given a raison d'être. While the dream of riding in Le Tour is beyond us, we live our lives (on the bike) as if we might attain that dream. The Velominati are kept on task by a worldwide community of like-minded idiots that don't realize that THE DREAM will always remain a dream so we strive on. Each of us trying to balance cold hard reality with being as marvelous on the bike as possible. Finding Velominati.com and riding in a cogal with Frank and others of the Black and Orange brought my dream into focus. I don't know which came first – the chicken or the egg? I don't even know which is the chicken – actually building a frame, and which is the egg – doing something freaking awesome for Frank (and thus the Velominati as a whole). I'm not sure how they worked out and intertwined with each other but it was because of being involved with the Velominat that I got off my arse and actually built a frame. So, naturally, the fruit of my labors needed to go to the Monarch, I mean, the (Dutch) Monkey behind all this madness. In a very real sense, were it not for Frank, "The Dream" would have remained a dream.
Now back to Bike #2.
---
Deacon:  Middle English dekene, from Old English dēacon, from Late Latin diaconus, from Greek diakonos, literally, servant, from dia- + -konos (akin to enkonein to be active) (perhaps akin to Latin conari to attempt)
The Greek diakonos (hence the lower case Greek delta on the head tube) literally means through the dust.  (Ah, visions of Paris-Roubaix.)
---
Bike #2 turned out to be much more of a learning experience than Bike #1.  Maybe Merckx was having pity on me and blessing my desire to bless others because #1 went together with nary a hiccup. Not so with #2. After much gnashing of teeth and about two months past the originally expected ETA I finally have the finished product but it was not without its headaches – I actually tore the back end of the frame off and redid it after realizing that my "short cut" led to a mis-aligned frame.  But all things work for the good…  I just chalked up the headaches as learning experience – like not trusting the painter to get the graphics on straight before he clear-coats the frame. Bike #3 (a road frame for myself) will not (I hope) be plagued by these headaches because #2 taught me some valuable lessons; for example, there are no short cuts. One thing I have learned in my many other endeavors in life is what separates a professional from an amateur. Namely, a professional knows how to fix his mistakes. Eric Clapton says a note in a lead is not a mistake if the note that follows it corrects the situation. So that's what we have with Bike #2. A series of "events" that led to what you see below.
I'm actually very pleased with the end result. Since it was going to be my personal bike I tried some things out – like the dropped seat stays with all the filet brazing involved. I know what a low BB feels like so since this is a CX rig I tried a higher BB. I'm getting old and have less flexibility so the head tube is a little taller – so I can still have it look like the stem is slammed. It's all about appearances, you know.
Some basic info: the frame was constructed with Richard Sachs lugs (with a set of NOS Ritchey drop-outs) and Columbus PegoRichie Uber Oversized tubing. PegoRichie tubing is custom drawn for Richard Sachs and Dario Pegoretti. It is a size 53cm and weighs in as you see it at 18.1 lbs (8.2k).  It has a full Ritchey cockpit plus some NOS Ritchey V (hey, hey) Cranks and a Ritchey Carbon Pro fork, Chris King headset, SRAM Force derailleurs and shifters, Dura-Ace chain and cassette, TRP Mini-Vs, and obviously Zipp 303 tubs with Vittoria sew-ups (because the red labels match the bike). A recent snow storm has rendered the local roads pretty treacherous but I'll post a ride report as soon as I can.
Oh, if anyone is interested in an affordable custom frame visit deaconbikes.com – I should have the website sorted out within a week or so – and give me a buzz so we can talk.  If you want geometry built to your specs, I can do that. If you want polished stainless steel lugs and the like, I might not be your guy (yet).
[dmalbum path="/velominati.com/content/Photo Galleries/[email protected]/Deacon 1/"/]
*Not that I think I'll actually ever be able to make a living building frames but at least it will afford me some extra cash so that maybe someday Cyclops will be seen at a Keeper's Tour.